Calicut University open degree 2014: Online registration started

Calicut University open degree 2014 online registration has started. Calicut University BA B.Com open stream admission procedure is explained here. Applications are invited for the BA/B.Com Open Stream Entrance Examination 2014 conducted by School of Distance Education, Calicut University. The last date of submitting application online is stipulated to 21st July 2014 while the printout of the application, e –chalan and other relevant documents should reach the director of distance education before 23rd July


Calicut University has invited applications for the BA/B.Com Open Stream Entrance Examination 2014 conducted by the School of Distance Education. Mainly envisaged to facilitate for those who could not undergo the regular studies due to various reasons, the open course is intended to persons who are eager to acquire a bachelor degree. As no basic education qualification is insisted for admission to the course through the open stream, anyone interested can apply. All those who have attained the age of 18 years by the first day of July 2014 are eligible to apply for the entrance examination.

Applications can be submitted online through the official website of Calicut University. Candidates abroad and outside Kerala can apply through the approved Counselling Centres. The last date of submitting application online is stipulated to 21st July 2014 while the printout of the application, e –chalan and other relevant documents should reach the director of distance education before 23rd July 2014. The admission is made through an entrance exam to be conducted on 9th and 10th August 2014. Only those who secure a minimum of 35% marks in the examination will be admitted to the Degree programme.

While registering online, all the columns are required to be filled with accuracy. Uploading a scanned passport size photograph in JPEG format, entering the chalan/DD number and other basic information should be done while filling the application form. The printout, along-with chalan/DD, attested copies of relevant documents should be submitted to the Director, School of Distance Education. The online registration number generated by the system should be kept for the purpose of downloading the Hall ticket.


Important Dates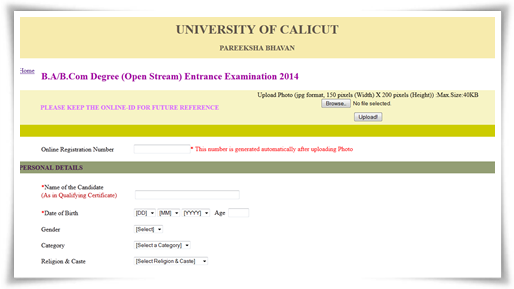 Last date of remittance of fee without fine - 16th July, 2014


Last date of remittance of fee with a fine of 100/- 21st July, 2014


Receipt of filled in applications at SDE - 23rd July, 2014


Date of Entrance Examination - 9th & 10th August 2014
Open degree entrance exam 2014

The questions for the entrance examinations will be based on the study materials which are being supplied by the School of Distance Education on receiving the printout of the application submitted online with the required fee. The questions for the examination will be from the given Question Bank. The entrance exam will be conducted in Colleges/Schools in all the districts of the state except Idukki, Pathanamthitta and Alappuzha. An objective type exam with multiple choices with three papers of 2 hours of duration will be conducted on 9th and 19th August 2014. The results will be published by the 1st week of September 2014.