Kerala voter ID card online registration 2014: Know the procedure

Kerala voter ID card online registration 2014 procedure is given here. If you want to know, how to apply for voters ID card online Kerala, www.ceo.kerala.gov.in the official website of Kerala CEO will serve the purpose. Here you can find all information and process to apply and get the ID card.


The voters ID card issued by the Election Commission serves as the identity proof for casting vote. The card is also used as photo ID at various places as an identity proof, address proof and age proof especially for buying a mobile phone SIM or applying for a passport. The Electoral Photo Identity Card (EPIC) is a citizenship proof of a particular area (state/district). With not much difficulty, people of Kerala are able to get their epic card through the process made possible at the Chief Electoral Officer (CEO). Through a simple online e-registration method, the voters ID card will reach the hands of the applicant.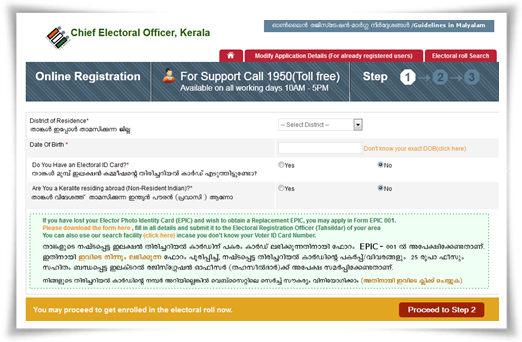 Those who wish to get the ID card should fill the online e-registration form available at the official website of CEO Kerala www.ceo.kerala.gov.in. The official portal of CEO Kerala serves as a companion for those who wish to get their Identity proof. Other facilities provided to the state citizens are information about the area BLO Officers, Polling stations and about the EVM (Electronic Voting Machine).


How to apply for new Voter ID Card in Kerala

Those who wish to own an new voters ID card should visit to the official page http://www.ceo.kerala.gov.in. Find the sub menu 'e-Registration' which will direct the user to a fresh page while the user need to select the district name and Date of birth (as per the certificate). Click on the'Proceed to Step 2' button. Here the voter id card number one of the family member and need to select the relation. In the later stage, click to the option of "Proceed to Step 3" where applicant will get a registration form and you have to fill it with your required information.Fill the details like district, area, Tehsil, locality along with the complete residence address information.

The printout of the acknowledgement slips shoud to collect your voter id card. According to the process, the BLO officer will come at the applicant's hose to verify verification step including residence proof and to proof their age (DOB certificate or qualification certificate).During the time, all those documents and proofs should be submitted online. After the survey, the BLO officer will send you notification through the phone or by the post. Being a responsible department of the Kerala government, the CEO serves for the people at its best.