Mathrubhumi Yathra July 2014 edition now in stands

Mathrubhumi Yathra malayalam travel magazine July 2014 issue is now in stands. If you wish to read Yathra tavel magazine July 2014 issue, do purchase a copy from your nearest book vendor. Being a complete travel magazine, this issue gives special focus on Pathanamthitta while zooming into the beauty of River Pamba, Shabarigiri - Holy Journey, Aranmula - Mysterious Mirror, Holy Dance and Charming Gavi.


Mathrubhumi Yathra, the popular travel magazine has published its July 2014 edition. Specially designed for people who are interested in voyages, this issue is thickly packed with contents including vivid journeys, travelogues location details, routes & maps hotspots and geographical histories of various places.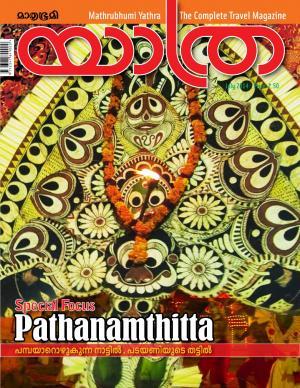 This edition of 'Yathra' specially focuses into the internal beauty of Pathanamthitta, the district which is known as the hub of religious places. This edition zooms into the beauty of River Pamba, Shabarigiri - Holy Journey, Aranmula - Mysterious Mirror, Holy Dance and Charming Gavi. Touted as the final choice of adventures 'Yathra' has already become the most popular travel companion.

The unparallel natural beauty of Pathanamthitta is truly different from other places in Kerala. If tourists choose places like Thiuvanathapuram, Ernakulam and Idukki as their tourist destiny, yet another group of people pick Pathanamthitta to satisfy their religious feeling. Being a place with calm and quite atmosphere, Pathanamthitta as a tourist destiny is still unexplored. The current issue of 'Yathra' is a truly dedicated journey to find the soul of the region which could be beneficial for masses who are deeply interested to keep their mind cool and calm.

Aranmula, the name which become popular among the westerners through the magical mirror would be much interesting for those who wish to know more about it. The journey through the Gavi forest will bring the real excitement for the readers. Enriched with colorful photographs and travel guidelines, this magazine will be a perfect travel companion. Unlike other travel magazines, 'Yathra' serves as a true friend which gives a real time travel experience for the reading community.

The hard work taken by the core team of experienced hands who are interested in traveling and writing makes the magazine reachable to more people. With less than a period of 6 years of its publication, 'Yathra' has shed light to many people proving ample information on various places. This magazine has already become the top priority among the readers. The other regular columns like Exciting Packages, Quovadis, Smart Traveller, Travel Trends, Photo Blogue, Travel Tips, Travel Taste and Parting Shot will keep the interest on the peak.

This magazine which comes at an affordable price is truly dedicated for those fun riders who wish to explore the world.