Karshakasree magazine August 2014 issue now in stands

Karshakasree magazine August 2014 issue is now in stands. The current edition featuring actress Amrita Anil on the cover page deals with the cover story of New ways in Gardening. This magazine is an essential handbook giving updated information to small time farmers on how to continuously improve his products.


Karshakasree, credited to be the most popular magazine exclusively dedicated to small scale farmers has published the August 2014 issue. Meant for farmers and also for those interested in agricultural activities, this magazine can be wisely used to bring the best in homes. As the articles are compiled after long research, the information is authentic and worth for time.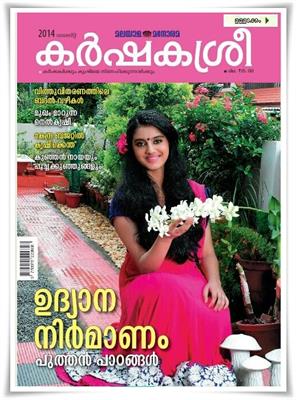 The highlight of the current edition is the cover story of New ways in Gardening. Unlike the traditional process of gardening, people try inventive techniques to make their backyard more beautiful. With the advent of technology, people are more interested to follow the western life style. New trends in housing and living are being adopted by Keralaties to bring more happiness.

The other sections of the magazine include articles on various farm business, commodity promotion, farm policy and guidance on farm programs. An expert panel of professionals', consisting of editors and columnists work for the glossy magazine to create a better reading atmosphere. As innovative thoughts and ideas need much for the success of agriculture, farmers need to know the best ways to build up their business.

As farming is meant as a family oriented subject, various techniques related to the farming can be used in the small home fields. The magazine comes updated with advanced agriculture news related to agriculture, crop technology, new machinery, and digital technology, farmers can get the first sight of news and views on commodity prices and market trends to plan their farming technique effectively. The new trends in paddy cultivation is focused in the current edition of the magazine.

Written is simple language, 'Karshakasree' serves as a farmer's guide giving time to time tips and advice on various methodologies related to farming. It also helps the small time farmers to continuously improve his products. Available at an affordable price, this magazine is the best source of information about the latest trend in farming while it can kept as a reference book.