Lake Palace Resort Chungam Alleppey, Kerala

Lake Palace Resort Chungam Alleppey, Kerala details are given here. Lake palace - The finest back water resort in India, situated at Alleppey in Kerala. It is the one of the most romantic destination of Kerala and give memorable moments to the tourists. This article tells you about the specialties and facilities provided by the Lake palace.


Lake Palace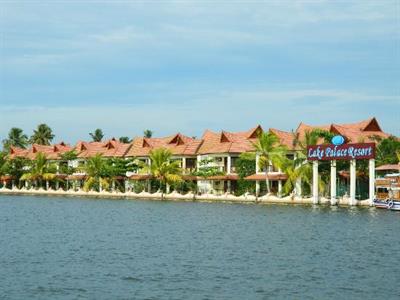 Lake palace - The finest back water resort in India, situated at Alleppey in Kerala. It is the one of the most romantic destination of Kerala and give memorable moments to the tourists. This is a beautiful back water resort situated in 50 acres land on the restful Vembanadu lake. This is not only a just a back water resort but a characteristic abode to experience the goodness of life in its most splendid variety. Lake palace provide high class facilities to the tourists with eco - friendly environment.

Tourists from different countries are come here to enjoy the beauty of the resort. Accommodation facilities varies from our Kerala style cottages to high class new - flanged water villas. Besides this, the resort provide different facilities such as multi cuisine restaurant, activity centre, Tea/coffee maker in rooms, In - house laundry, swimming pool, doctor on call, cyber cafe, conference hall, ayurvedic centre, water sports, house boats, speed boats, money exchange and a lot more. Wide spread coconut fields, inland water ways, lagoons, paddy fields etc feasts our eyes very much. This is a dream place much preferred by the tourists to enjoy the beauty of the back water.


Special features
Lake palace accommodate our life with an elaborate view. With an enticing ambience these homes are construct with a view to enlarge the view. Several spectacular sight can be explored from the balcony of cottage which give cheerful moments to cherish forever. Each cottage provide spacious and comfortable bed rooms, mini bar, television, bathrooms with hot and cold running water. Traditional Kerala architecture are the one of the finest choice of accommodation.

Lake palace provide traditional Kerala style architecture with teakwood walls, wooden ceilings and terracotta roofs that helps fresh air linger on and keep the cottage interior refreshingly cool. These typical Kerala cottages adjoin Kerala heritage cottages, another pick for propitiatory living. Back door of both the cottages are open to the placid blue lake. Life in water villas are the another specialty of lake palace. These water villas are built in traditional Kerala style with gabled tile roofs and a veranda all around elite our life. More over these villas provide a eco friendly environment that is ideal for peace of mind. These independent luxury villas offer smart rooms with jumbo bedrooms, wooden furniture, en suite bathrooms and 24 hour room service.

Multi cuisine restaurant is the another specialties of Lake palace. These restaurant serves Mughalai, Chinese and continental dishes besides ethnic delicacies Kuttanadan duck curry, Karimeen pollichuth, and Malabar fish. These scrumptious dishes are enriched with fruits, vegetables, cereals and fragrant spices. The setting at the restaurant set apart by delicate wooden furniture and a gentle view of gorgeous outdoors ideally complement dining. Coffee shop and deluxe bar are also with in the restaurant.

Lake palace swimming pool is an engineering marvel, float on a three acre private lake. For kids a mini swimming pool is also attached with the main pool. An ayurvedic center is also function under Lake palace. The simple adherence to nature and all its natural design is what make Lake palace ayurvedic center an experience to everyone. Ayurveda is an ancient form of science and holistic system of medicine based on nature. Lake palace follow a genuine treatment which focuses on the positive health and prevention of illness of the people. Centre is built in traditional nalukettu style which ensure 100 % hygienic and dust free condition. Curative and restorative therapies and specially prepared ayurvedic diet are also provided in the centere.
House boat ride is the must to see in Alleppey. These are large county boats, earlier used as a means of transport. House boat ride with all sorts of luxury inside provided by the Lake palace is the ideal choice. Facilities such as attached king sized bed rooms, well furnished bedrooms, living rooms, dining hall, kitchen and modern bathroom provided by the lake palace make house boat ride an experience to everyone. Delicious food is also served on the boat. During the journey on the boat, Kerala's typical rural life can seen on both ends.

Spacious conference hall provided by the Lake palace is an ideal environment for gather at any occasion, let it be working out new business deals, venues for business meets, conventions or for celebrating corporate success. The hall is designed in well equipped manner with fine floor, well furnished ceilings, landscaped surroundings and enough rooms to make the occasion more profound, productive and interesting. Speed boat cruise, kettuvallam rides, cultural programmes and sightseeing trip can also be explored. Alleppey can't be experienced better than visiting Lake palace.


Address
Lake Palace Resort
Alleppey, Kerala, India
Phone: 91-477-2239701-04, 2230001-06
Fax: 91-477-2239705, 2230009
Website: www.lakepalaceresort.com