Kerala popular historical monuments and its importance

Kerala important historical monuments details are given here. Kerala is truly a god's on country. It is renowned all over the world for its diverse and unique attractions. Kerala has an impressive array of cultural and historic monuments. This article tells you about the famous monuments in Kerala.


Kerala is truly a god's on country. It is renowned all over the world for its diverse and unique attractions. The state is blessed with a lot of impressive monuments, golden beaches, refreshing hill station, magical back waters, rejuvenating ayurveda, colorful festival, delightful cuisines etc. These makes Kerala the fastest growing hotspot of Asia. Kerala is blessed with an impressive array of historic and cultural monuments. Here are some of the famous monuments which make the state historically more beautiful.

1)Padmanabhaswamy temple: Situated in Thiruvanathapuram district, this is a famous temple dedicated to lord Vishnu. There is no any evidence exist now about the origin of the temple. However temple has references in puranas and epics. It says that Balarama visited the temple in antiquity and gave so many offerings here. Padmanabhaswamy temple was built in Kerala with Dravidian style of architecture. Mural painting and stone carving inside the temple is famous all over the world. Temple has a large number of sacred water resources, Padmatheertham located on the eastern side of the temple is the main one. Multiplicity of Mandapams is the another feature of this temple. There are 19 mandapams, among this 11 is inside the temple and 8 in the padmatheertham pond. Temple has a Sreebalippura, that is a marvelous rectangular corridor which is believed that 4000 sculptors, 6000 laborers and 100 elephants, worked for a six months to finish its construction. By indicating the nine orifices of the human body, the temple has 9 entrances.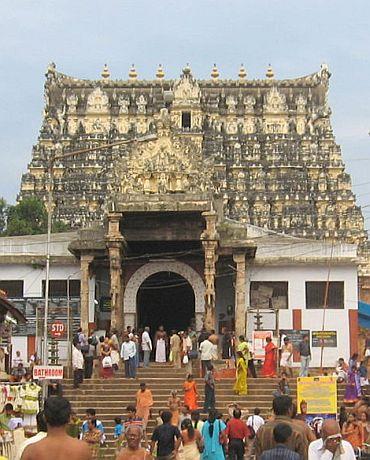 2) Kuthiramalika palace museum: Kuthiramalika palace museum which is also known as Puthenmalika palace museum or horse palace is a beauteous two storeyed palace built by Maharaja Swathi Thirunal Balarama Varma, a musician, poet and social reformer. Palace is situated near Padmanabhaswamy temple. It houses so many art facts and is a rare specimen of workmanship in the traditional travancore style. Now it is a museum which displace priceless paintings and other articles.
Visiting hours - 0830 - 1300 hrs & 1500 - 1730hrs.
Closed on Mondays
Phone no: +91 4712473952

3) The Napier Museum: Situated in Thiruvanathapuram district, the Museum got its name from the former Madras Governor General John Napier. It is also government art museum. It is a combination of Kerala Mughal, Italian and Chinese Architectural styles. This Indo - Saracenic structure is built in 19th century boasts a natural air conditioning system. Museum houses a rare collection of ivory carvings, temple chariot, ancient ornaments, bronze idols, archaeological and historic arte facts. There us Sree Chithra Art Gallery situated near the Napier Museum that displaces the selective paintings of Raja Ravi Varma, Nicholas Roerich and Svetlova.
Visiting hours: 1000 - 1700 hrs
Closed on Mondays, Wednesdays, forenoons.

4) Padmanabhapuram palace: This is a beautiful wooden palace built in16th century. It is situated at Thuckalai on the way to Kanyakumari and is under the control of government of Kerala .One can see the 17th and 18th century extraordinary murals, black glossy granite floor, exquisite floral carving, royal chairs with Chinese carvings, number of teak beams, secret underground passages, Belgian mirrors, granite dance hall, open air swimming bath, large earthen urns, the King's bedroom with a four poster medicinal bed, pictures of Lord Krishna, outer cyclopean stone wall fitted together without mortar and a musical bow in mahogany. Thiruvananthapuram International Airport is 52 km away from this palace and Eraniel Railway Station is 4.6 km away. Closed on mondays.

5) Krishnapuram palace: This is a famous palace situated at Kayamkulam in Thiruvanathapuram district. Palace is built in Kerala style of architecture with dormer windows, gabled roofs, narrow corridors etc. It is renowned over the world for its extraordinary murals, exquisite floral carving, extraordinary painting, bronzes, antique sculptures etc. A large number of peoples are visited the palace on every year for its diverse and unique attraction. Now it is an archeological museum which exhibit the above said fascinating collection. Large mural painting in Kerala Gajendramoksham which is in this palace and it is the one of the exotic view for visitors. Thiruvanathapuram international airport is situated 100 km away from this palace.

6) Mattancherry palace: This is a famous palace built in 1557 by the Portuguese and presented to Raja Veera Kerala Varma Kochi which is situated in Ernakulam district at Mattancherry. Palace is also called Dutch palace. A bhagavathi temple is present at the centre of the palace which is built in typical Kerala style mansion. Many people visited the palace on every year and the palace displays ,Dutch maps, period furniture, murals depicting scenes from the Indians epics and legends, royal collections such as weapons, swings etc. Cochin International Air port is situated 42 km from this palace. Visiting hours: 1000 - 1700 hrs.

7) Chinese fishing nets: Chinese Fishing nets are also called Vasco da Gama square and is erected in between 1350 and 1450 by the traders from the court of Kublai Khan. It is located in Fort Kochi. The unusual fishing method operating from the shore is the highlight of Chinese fishing nets. This is an impressive view for the visitors who visited the place for the first time. The full fishing structure is 10 m high and each fishing 20 m above the water body. These are operated by 6 fishermen. Chinese fishing nets was introduced by the Chinese explorer Zheng He. Hence it started with Chinese.

8)Bekal fort: It is the one of the best preserved fort in Kerala built 300 years ago. This imposing circular structure stands on 35 acre headland and rises to 130 ft above the sea level and run in to Arabian sea. The top tower of Bekal fort offer a exotic view of the Arabian sea. Now Bekal fort and it surroundings offer the destination of refreshing hill station and fascinating back waters. Water sport facilities are also available here. Most of the film makers choose Bekal fort and its surroundings as a favorite shooting location. Kasaragod which is 16 km away from the Bekal fort is the nearest railway station here. Nearest airport is Mangalore which is 50 km from this fort.

9) Palakkad Fort: Palakkad Fort is also known as Tipu's fort which is situated in the heart of Palakkad town. This was the one of the well preserved fort in south India which was constructed in 1766 AD and is today a protected monument under the Archaeological Survey of India. The sober majesty of the laterite walls of the fort reminds one of the old tales of valour and courage. Tipu's fort was built by Hyder Ali the emperor of Mysore province. Tipu sulthan, son of Hyder Ali is a warrior as well as a linguist known as the 'Tiger of Mysore'. Nearest railway station is in Palakkad which is about 5 km from this fort. Nearest airport is Coimbatore in Tamilnadu State which is about 55 km and Cochin International Airport, about 140 km towards south.

10) The Thalasseri fort: Thalassery Fort is situated in Thalassery, which is 22 km south of Kannur, near the Municipal cricket stadium. Fort was built by East India Company authorities of British in 1708. Initially it was established as a godown for pepper and cardamom. Later it became the military centre of British. Intricately carved doors, secret tunnels leading to the sea and a short lighthouse are some of the features of Thalassery Fort. A mixture of quicklime, white of egg and sugar candy were used for the construction of church.