Kumarakom Lake Resort Kottayam - Facilities and Contact Details

Kumarakom Lake Resort Kottayam, Kerala facilities and contact details are given here. Kumarakom Lake Resort is a finest luxury heritage resort in India, nestled in the serene banks of restful Vembanad lake. This resort is situated in Kottayam district and it is the one of the hottest holiday sport in India. Read this article to know much about the resort.


Introduction
Kumarakom is an enchanting village situated on the banks of Vembanad lake in Kottayam district. Magical back waters, emerald paddy fields, wide spread coconut fields and thick mangrove forest add to the beauty of this serene stretch of land. Kumarakom lake resort is a finest luxury heritage resort in India, nestled in the serene banks of restful Vembanad lake. Kumarakom Lake Resort is the one of the hottest holiday sport in India. Sprawling across the 25 acre lush greenery, Kumarakom resort awarded thrice in a row as India's leading resort by the much acclaimed World Travel Awards, exudes the charm of Kerala's true heritage while offering a complete range of New Age amenities for a luxuriously comfortable stay. Luxury houses, multi cuisine restaurants, ayurvedic center, swimming pool, conference hall, house boats, water sports, traditional tea shops, dream wedding, Wi Fi, business center, money exchange, activity center and the countless other facilities offer you the simple luxuries of life. Kumarakom has an equable climate on account of its proximity to ocean. It rarely falls below 16 Degree Celsius and rarely climbs above 38 Degree Celsius.


Major facilities
Accommodation at Kumarakom lake resort
It accommodate your life with an elaborate view. The villas, rooms and suites at the Kumarakom Lake Resort are a perfect blend of traditional Kerala architecture with luxuries and modern comforts. The traditionally styled, luxuriously modern, open-roofed bathrooms and toilets set in small, aesthetically designed courtyards are a common feature to the villas and suites in the Kumarakom lake resort. The Presidential Suite with its very own personal view of the lake, a private pool by the banks of the lake, a private courtyard and regal interiors offer a luxury comfort life.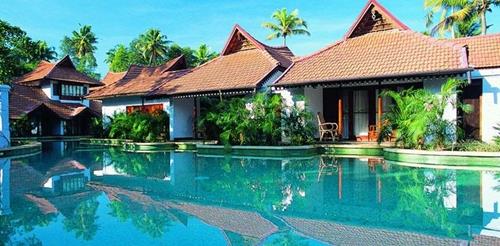 Heritage Lake View Villas with private pool in the resort offer exclusive and exotic indulgences as each plush villa, built in the traditional Kerala style , has its own private courtyard with a private pool ensuring the creation of fabulous moment. This heritage villas provide a panoramic view of the luminous Vembanad lake which is a new concept to add to your holidays. The traditionally furnished Meandering Pool villas and Meandering Pool Duplex Villas with luxurious bedroom are also in the Kumarakom lake resort. Eco friendly surrounding here provides a soothing ambience ideal for peace of mind.


Ettukettu Multi-cuisine Restaurant
Kumarakom lake resort provide a multi cuisine restaurant with 115 seat. A princely eight-sided mansion with 2 central courtyards, the Ettukettu bespeaks of the grandeur of yesteryear Kerala's regal architecture. The restaurant has a well-appointed bar that suits all tastes and a wide and varied choice of delicacies. The restaurant serves Chinese, Mughalai, Continental, North Indian and traditional Kerala dishes besides ethnic delicates like Karimeen Pollichathu, Syrian Christian Duck Roast, Duck Curry, Appam, Thamarappam, Idiappams Karimeen Mappas etc. These scrumptious regional are enriched with exotic tropical fruits, fragrant spices, cereals and vegetables. Deluxe bar, coffee shop, and special pool side luncheon add to the beauty of the restaurant.


Houseboats ride
House boats or kettuvallams are large county boats earlier used as a means of transport, now restored with well furnished bedrooms, kitchen, dining room and modern bathrooms. Kumarakom lake resort provide an an ideal place for experiencing these facilities. It provide modern comforts such as LCD TV home theatre, intercom facilities, cell phone coverage, air-conditioning even in the dining-room etc. Our fleet of houseboats are in a luxurious class of their own. Each houseboat has unfurl rooms furnished in ethnic style that allude higher levels of comfort. Experienced boatman are provided in each house boats, they navigate you through the tranquil stretches of back water. Delicious food is also served on the house boats.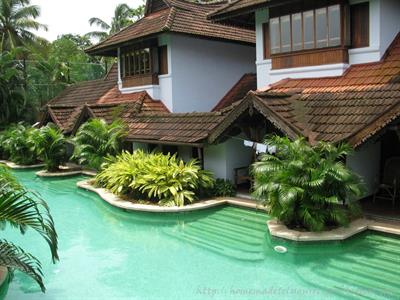 Ayurveda
Kerala, the only place in the world where ayurveda, ancient form of science and holistic system of medicine is practiced perfectly. Kumarakom lake resort ayurvedic center administer ayurveda with genuine treatment. It offer 100 % hygienic and dust free conditions. The center performs various ayurvedic treatments such as Yoga & Meditation, Rejuvenation Massage (Abhyangam), Sirodhara, Patrapodala Swedam, Choornaswedam, Face Massage, Feet Massage, Njavarakizhi, Udwarthanam, Pizhichil, Pizhichil, Thakra dhara / Ksheeradhara, Nethrasekam, Katee Vasthi, Siro Vasthi, Nasyam, Pichu, Steam bath etc.


Conference
Kumarakom lake resort provide an environment to gather at any occasion, let it be working out new business deals, business meats, conventions, celebrate corporate success etc in its conference hall that has a capacity to seat 85 people. Well furbished with state-of-the-art communication systems and presentation facilities.


Business Centre
Kumarakom lake resort offer the right blend of service, luxury and quiet efficiency, customizing its facilities to suit your every need. Armed with amenities like high speed internet, telephone, fax and efficient secretarial service, full-fledged, fully equipped Business Centre will meet all your requirements.


Wedding
Kumarakom lake resort offer you a perfect atmosphere to full fill your dream wedding. The resort which is surrounded by meandering streams and lush greenery is oft chosen to exchange wedding vows. Theme weddings are also executed here to make your dream day just magic.


Other local attractions and activities near Kumarakom Lake Resort

Cruising Kumarakom provide multitude activities such as backwater cruise, sunset cruise, indoor games, water sports along with other local attractions such as bird sanctuary visits, sightseeing trips to Kottayam, cycling, village walks, evening shows of Kerala's traditional dance etc. Kumarakom is a water-locked land which provides cruise facilities such as back water cruise, lunch cruise, and overnight cruise.

Bird sanctuary and the island Kumarakom houses the renowned Kumarakom bird sanctuary which is a home of Darters, Herons, Cormorants, Egrets, Teals etc. and migratory birds like the Siberian Storks. You can see these species on the early morning cruise. An Island is also present here, which is the one of the protected wet land of India. The mangrove forest in here acts as a safe haven for the fish in the lake.

Farm tours Kumarakom offer you to visit the underwater cultivation. This is the only place in India where these types of cultivations are practiced. This is an ideal cultivation ground that is protected by coconut trees all around. A variety of coconut trees, herbs, bananas and some fresh vegetables are flourish here.


Transportation
From Cochin International Airport it is a 70 km journey to the Muhamma boat Jetty. Kumarakom lake resort is a few minutes away across the jetty. The enchanting boat ride to the resort will take less than 20 minute. It is 171 km ride to the Muhamma boat Jetty from Trivandrum international airport and 180 km ride to Calicut International Airport. The nearest bus terminal is at Kottayam which is 14 km by road from the resort.


Address
Kumarakom Lake Resort
Kumarakom North P.O.,
Kottayam 686 566, Kerala, India.
Tel : 0091 481 2524900, 2524501
Fax : 0091 481 2524987