Gayathri Arun Malayalam Serial Actress - Profile and Biography

Gayathri Arun Malayalam serial actress profile and biography is given here. You may not know Gayathri but I am sure you all will know who Deepthy is. Yes, Gayathri is the very own Deepthy of the mega serial Parasparam telecatsed in Asianet. Read on to know more about this awesome actress, her career and family.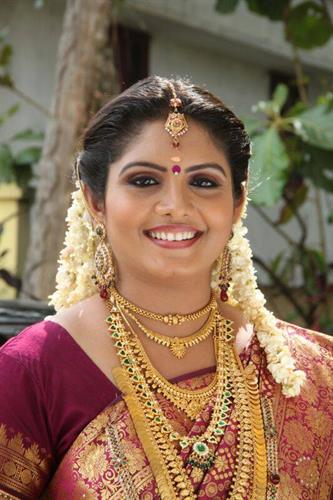 A brief about the actress, Gayathri Arun

Gayathri Arun, the serial actress is quite famous in Kerala now. She is lucky to be recognized by all with her first venture itself. She hails from Alappuzha district of Kerala and lives with her husband and kid. Her husband works as a sales manager in a private company. They were blessed with a baby girl named Kalyani. The sweet little girl is now four years old. Even during Gayathri's busy shooting schedule, she finds time for her daughter and family. Now she is getting popular and has attended many inaugural functions in the Trivandrum, Kollam and Allapuzha region. To add to it, she has also won the Best New Face Heroine Award from Asianet during the Asianet Television Awards 2014 held at the Beach Marine Ground, Kozhikode.


Gayathri Arun, the Malayalam Serial Actress

Gayathri Arun made her debut in the field of acting through the mega serial named "Parasparam" telecasted in Asianet TV channel. The serial started in the year 2013 and is still continuing. The story of the serial revolves around a family with a mother and thee sons. Gradually three daughter in laws will come into their family and three after the serial takes a twist by getting into the incidents and happenings in their lives too. Rekha Ratheesh appears as the mother. Gayathri Arun gave life to the character named 'Deepthy', the first daughter in law of the family. Deepthy is a studious girl and wants to be an IAS officer. But her mother in law, Padmavathy is against she continuing her studies as Deepthy's husband has only studied until Grade VII. But she and her husband will struggle to continue her studies without informing her mother in law about it. Deepthy's husband, Suraj (Vivek Gopan) is afraid of his mother and is an obedient son too. Deepthy who is an intelligent and bold girl will save the family from lot of troubles and thus gains the love of the family, especially the mother in law. But Meenakshi, the second daughter in law is jealous about it and tries to trap Deepthy.

Gayathri Arun is doing an excellent performance as Deepthy. It is worth mentioning. Gayathri in an interview said that like Deepthy, she too had an ambition in life and that was to become an actress. Luckily Gayathri didn't have to struggle like Deepthy to achieve her goal.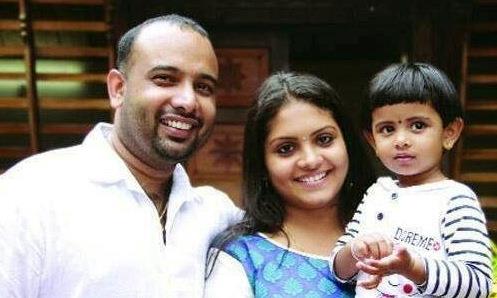 She is indeed talented to be an actress and that is clearly vivid in each and every performances of hers ion the serial Parasparam. She has become the most impressive actress in this serial. Gayathri is quite similar to her character Deepthy. She too personally likes modern dress and is bold and independent in nature. Even though Deepthy is seen in saree most of the time, she too likes modern dresses. But Deepthy is an obedient daughter in law who wears only saree after marriage. Gayathri added that she did not have much sarees in her wardrobe and had to do special shopping for this serial. The beautiful Gayathri is a singer too and has sung once when she came as the judge for the popular reality show in Asianet, Idea Star Singer.

She is so happy and excited now as people started recognizing and identifying her during her travels and shopping times. She says that an old lady came to her and told her not to hate Suraj as he is a such a good boy and is very rare to find such people in this era. This gave the actress immense pleasure as her character Deepthy is well influencing the audiences. In an interview with Vanitha magazine, Gayathri has said that she has no plans of getting into large screen as of now. She feels comfortable doing serials as her schedules are compromising with her family life. So for the next one year she will be doing only the role of Deepthy. Gayathri did get two offers from film field which she has to give up. She has not yet decided whetted to take up good roles, if she gets along with her role. Her dedication to the character she is doing is too clearly understood from this decision.