Amrita TV Onam 2014 special movies: Full entertainment for festive season

Amrita TV Onam 2014 special movies full list and premiere shows is given here. Onam Special movies 2014 on Amrita TV and other entertainment channels like Asianet, Mazhavil Manorama, Surya TV, Amrita TV, Kairali TV, Jeevan TV and Kiran TV will deliver the best time for the moviegoers. Like the previous year, Amrita TV will be airing a number of super hit movies.


With few days remaining for the start of Onam week, major television channels are preparing to entertain the audience with a bunch of entertaining programmes. Being the most revered festival, 'Onam' is being celebrated by the malayali community with more spectacle and vitality. All the major malayalam channels would deliver creative and inventive programmes during the festive season.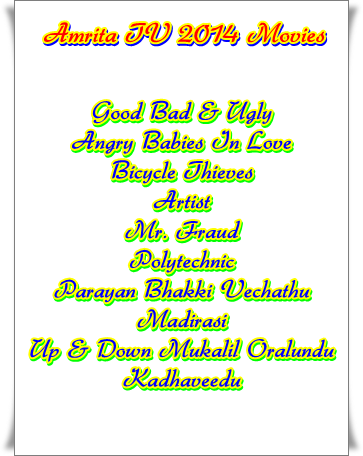 Along with the popular channels, Amrita TV will air nonstop entertaining activities including movies, cookery and music shows. To celebrate this festival of happiness, opulence and fulfillment, Amrita TV will be premiering a slew of blockbusters during Onam. Amrita TV, which is trying to climb into the top slot, has earned the exclusive television rights of Mohanlal movies.

Adding more power to the vigorous step, the channel will conduct a film festival featuring super star Mohanlal telecasting his movies like 'Aaram Thampuran', 'Sagar Alias Jacky', 'Keerthi Chakra', 'Casanovva', 'Innathe Chintha Vishayam', 'Raavanaprabhu', 'Snehaveedu' and 'Evidam Swargamanu' during the period 29th August – 5th September 2014.

The channel which has already acquired the exclusive right of some recently released movie would telecast it during this Onam season. The first day of Onam which falls on 6th September 2014 will witness the premiering of three movies on Amrita TV viz:- (i) 'Good Bad & Ugly' (ii) 'Angry Babies In Love' and (iii) "Bicycle Thieves". On 7th September, 'Thiruvonam' the main festival day will see the viewing of superb movies viz:- (i) 'Artist' (ii) 'Mr. Fraud' and (iii) 'Polytechnic'.

On the third day of Onam, 8th September, the channel will telecast three new movies viz:- (i) 'Parayan Bhakki Vechathu' (ii) 'Madirasi' and (iii) 'Up & Down Mukalil Oralundu'.On 9th September, the final day of Onam, Amrita TV will telecast a new movie 'Kadhaveedu' starring Kunchakko Boban & Bhama. All the movies have gathered productive response from the box office.

With the purchase of superstar's movies, the channel has given an indication of its strong presence in the entertainment world.