Kairali TV Onam 2014 special movies: Enjoy this festive season with full fun

Kairali TV Onam 2014 special movies full list and premiere shows is given here. Onam special movies 2014 on Kairali TV and other channels like Asianet, Mazhavil Manorama, Surya TV, Kappa TV, Amrita TV, Kairali TV, Jeevan TV and Kiran TV will make this Onam season more entertaining. As done in the past, Kairali TV would telecast super hit movies for the viewers.


This Onam festive season would add more excitement to the small screen spectators. All the major malayalam television channels are putting much effort to deliver a visual treat for the viewers. Along with a various range of inventive programmes including music, cookery, chat shows, interviews with celebrities and much more to entertain during the 10 day Onam extravaganza.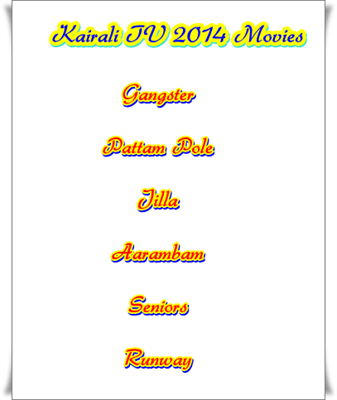 As 'Onam' is considered to be the most revered festival it is celebrated all over with world by the malayali community with more pomp and vivacity. It would also be a busy time for all the prominent entertainment channels delivering creative and inventive programmes during the jovial season. Kairali TV too would join the big league celebrating the festival of happiness, wealth and fulfillment with a bunch of shows and a slew of blockbuster movies.

The channel would be unveiling some of the newly added movies from their library during this Onam. Kairali TV will be premiering 2 malayalam movies and 2 tamil movies to entertain the moviegoers. The worldwide premieres include 'Gangster', 'Pattam Pole' and dubbed versions of 'Jilla' and 'Aarambam'. Added to it, box office hits like 'Seniors' and 'Runway' will make their presence.

'Gangster' directed by Aashiq Abu with Mammotty in lead couldn't impress the audience and was dud in the box office. Meanwhile 'Pattam Pole' which film tracked the relationship between a Brahmin youth, Karthik, and a Christian girl, Riya too couldn't make waves in the theatres. Both 'Jilla' and 'Aarambam' were released in Kerala too and made good profit.

Interestingly, Kairali TV in association with Swaralaya will telecast the cultural show held in Dubai on the Thiruvonam day. This two-and-a-half hour show featuring celebrities such as singer K J Yesudas, Vijay Yesudas and comedian Suraj Venjaramoodu will create an enjoyable environment. The show will have a mix of comedy, singing and dancing which would keep the audience intact.

Chat shows and interviews featuring celebrities would be telecast during the Onam week. Short comedy skits, musical shows and Onam games supported by the invited guests from the film industry would make various programmes interesting to watch.