Kerala Onam Bumper Lottery 2014 Results to be Published Today (19th September)

Kerala state ThiruvOnam bumper lottery 2014 results will be published today, 19th September. The structure and draw date of Kerala Onam Bumper lottery 2014 is well explained in this article. Scroll down to know more information about the upcoming Onam Bumper which comes with a grand prize of Rs 6 Crore.


Kerala State Lotteries, first of its kind in India has been running successfully for the last 4 decades. The lottery department which has succeeded in conducting lucky draws every day took a progressive step by contributing to the needful people.

It has also become a role model for other states for starting their own lotteries. Apart from the regular daily lottery draws, the department conducts Bumper lucky draws in special occasions. As the Kerala lottery has regained its credibility, people from all wakes of life make sure their active presence in the lucky draws.

The Onam Bumper 2014 comes with gigantic prize money which includes Rs 6 Crores as first prize and various other interesting cash accolades. In view of the increasing demand of the Bumper lottery, the lottery department issued 54 lakhs tickets. The sales of the Kerala Onam Bumper tickets started on 16th July 2014. Comparing with other normal lottery tickets, Onam Bumper is being sold widely as the first prize is fixed to 6 Crores. The cost of a ticket is fixed to Rs 200.

The tickets will be available in 6 series TA,TB,TC,TD,TE and TG. Here is the Onam Bumper 2014 prize structure.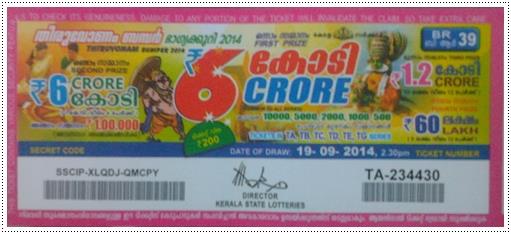 Onam Bumper 2014 Prize Structure

• 1st Prize - Rs 6 Crores (1)
• 2nd Prize – Rs 1 Crore (6)
• 3rd Prize – Rs 10 Lakhs (12)
• 4th Prize – 5 Lakhs (12)
• 5th Prize – 1 Lakh (54)
• 6th Prize – 10,000 (1080)
• 7th Prize – 5,000 (10800)
• 8th Prize – 2,000 (17280)
• 9th Prize – 1,000 (17280)
• 10th Prize – 500 (54000)
• Consolation Prize – 5 Lakhs (5)

The draw of Onam Bumper 2014 (BR -39) will be held on 19th September at a previously announced venue. Through the lottery sales, Rs 108 Crores is expected to raise, while Rs 28. 95 Crores will be give prize money and Rs 2.89 Crores to be distributed to the agents. More than 10,000 lucky persons would get the reward from the lottery draw.

The first to fourth prizes will be drawn in the order while the remaining prizes will depend upon the sale of tickets. 10% of prize money on 1st to 5th and consolation prizes will be deducted to be paid to the respective agents as agent's commission on prize. To avail the cash prize, the winning tickets should be surrendered within 30 days from the date of draw. The first to fourth prize winning tickets can be surrendered to the Director of State Lotteries in person or through Nationalised or other specified banks.

Make use of the rare opportunity to be a part of the Kerala lottery draw and also get chance to win bumper prize.