Last Grade Servant (LGS) Exam 2014 – Preparation Tips

Kerala PSC last grade servant (LGS) 2014 exam preparation tips are given here. Read more to know about the syllabus, exam details and preparation tips for Kerala PSC Last Grade Servant (LGS) 2014 exam. The Kerala PSC Last Grade Servant (LGS) exams are being conducted in various centres through 7 stages starting from 20th September and ending on 20th December 2014.


The Kerala Public Service Commission (Kerala PSC) much known as one the biggest employment recruitment provider of the country has reached the final stage of preparation for the exams. To be conducted at various centres across the state, the exam is being held in 7 stages starting from 20th September and ending on 20th December 2014. With more than 5 lakh candidates registered, the final rank list of the Last Grade Servant (LGS) exam would be published on 30th July 2015.

As most the candidates are undergoing last time preparation, it is very important to have a thorough knowledge about the syllabus and pattern of questions. If you are person with dedicated mind and having burning desire to enter the government service, you would be right person for the post. As systematic learning and clever mind is much needed to overcome the exam hurdles, one need to strive for the best in the coming days. An objective type test (OMR Valuation) based on the qualification prescribed for the post will be held at various centres.


Last Grade Servant (LGS) 2014 Exam Dates

Those who had applied for the post must download the admission tickets through their one time registration profile in the website www.keralapsc.gov.in as mentioned in the exam calendars (September, October, November and December).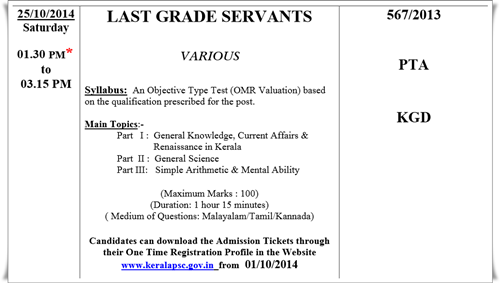 • Thiruvananthapuram & Waynad: 20th September, 2014

• Alappuzha & Palakkad: 11th October, 2014

• Pathanamthitta & Kasargod: 25th October, 2014

• Idukki & Kozhikkode: 8th November, 2014

• Kottayam & Malappuram: 22nd November, 2014

• Kollam & Thrissur: 6th December, 2014

• Kannur & Ernakulam: 20th December, 2014


Last Grade Servant (LGS) 2014 Exam Syllabus

The Kerala PSC Last Grade Servant exam syllabus consists of 3 parts.

Part I: General Knowledge, Current Affairs & Renaissance in Kerala


Part II: General Science


Part III: Simple Arithmetic & Mental Ability
Last Grade Servant Preparation Tips

Few candidates reach the exam hall even without a clear knowledge about the syllabus. As it is a competitive exam, many candidates will have a clear knowledge about the pattern of questions and would be well versed with the areas given in the syllabus. As Keralites give serious concern to a systematic learning process, those who are undertaking competitive exams will rely on coaching centres and relevant books published according to the syllabus. Candidates should have a polished knowledge about the various topics covered in the program of study.

Emphasis is given to historical, economical and social significance of the state. Achievements made in the fields of Literature, Science, Cultural and Sports form the core of the syllabus. Simple arithmetic problem which include mental ability questions will be asked. As negative marks are included, candidates must take care while answering each question. The mode of exam will be in Malayalam. So it is very important to have depth learning and also be acquainted with the terms related to mathematics.


Well knowledge about the syllabus and preparing a simple schedule is the basic feature of delivering foundation for the exam. Mnemonic techniques and preparing notes on important terms & names would improve your memory and even stay as a close aide while in the exam hall.


Forming a team and organizing Group discussion based on the relevant topics related to the syllabus can deliver positive results. Assemblage of likeminded candidates and discussing socially relevant issues will sharpen the thoughts and make the participants to respond quickly.


As time management is an important factor in completing the exam with confidence, candidates must know who to use time effectively. As per the pattern of Kerala PSC exam, a candidate needs to answer a question in less than one minute (100 questions to be answered within one hour and fifteen minutes). From the experience of top ranked candidates, one should have to score 90 or correct answer out of 100 questions to get featured in the rank list.


It is very important to take Mock Test and answering to previous question papers of Last Grade Servant. With limited vacancies and unlimited applicants, this exam is only meant for the top performers who can crack the challenging set of questions.

Along with mental preparation, candidates should give much importance in their diet to sharpen their thoughts. Talking with positive thinkers will boost the self confidence level. Try to include vegetables & fresh water which can decrease your eyestrain and sharpen the memory which will give more concentration inside the exam hall. Reducing nervousness and avariciousness would give a different experience which can convert your dream to triumph.