Shreya Ghoshal Malayalam Playback Singer - Profile and Biography

Shreya Ghoshal malayalam playback singer profile and biography is given here. Shreya Ghoshal, an Indian playback singer who is also known as the Nightingale of India has rose to stardom for her excellence in driving people to a magical world of musics through her melodious voice.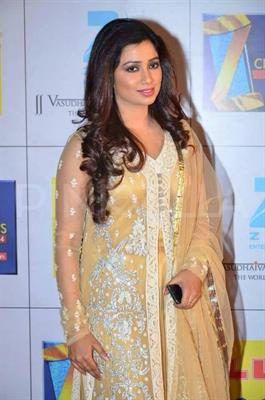 Shreya Ghoshal, an Indian playback singer who is also known as the 'Queen of Playback Singing' has rose to stardom for her excellence in driving people to a magical world of musics through her melodious voice. She was born on 12th march 1984 in Berhampore, West Bengal, India to Bengali Parents. Her father 'Sh. Bishwajit Ghoshal' who works as Nuclear Power Plant Engineer in 'Bhabha Atomic Research Center' under its corporation of India and her mother is 'Smt. Sarmistha. Ghoshal' who is Post Graduate holder in literature. She also has a brother 'Soumyadeep Ghoshal' who is 7 years younger. Within few years she has managed to reach the pinnacle position of Indian musical industry.


Early life and education
Shreya Ghoshal's first teacher was her mother herself. Sherya used to listen and murmur the songs which her mother performed. By the age of 4 she was trained on harmonium and when she reached 6 started formal training in 'Hindustani Classical Music' in Kota with Rakesh Sharma, Shri. Jayawardhan Bhatnagar and Maheshchandra Sharma. In 1995 Sherya won 'All India Light Vocal Music Competition' in New Delhi organised by a group called Sangam under sub- junior level. The music reality show 'Sa Re Ga Ma' was indeed a life changer. Her both attempts turnout to be a success. She became the award winner for junior category of 'Sa Re Ga Ma' contest on Zee Tv and even her second attempt with adults couldn't stop her from grabbing the first position. Most of the judges and music directors saw her performance and was shocked to see such a marvelous singer. Later one of her judges 'Kalyanji' advised her to move to Mumbai if she really wish a bright career as a singer. So Sherya's father requests for a transfer to Mumbai and they shifted instantly as she knew it was the right move to be taken. He trained her for about 18 months and continued training with 'Mubta Bhide' in Mumbai.

Sherya did her schooling in 'Atomic Energy Central School' (AECS) at Kota upto 8th and in 'Atomic Energy Central School' (AECS) Anushakjinagar when the were relocated to Mumbai for her training. As her career in Bollywood was on a roll she decides to withdraw from her first college and later joined SIES college at Sion in Mumbai. She was graduated from there for arts stream. The culture of her parents and also her mother being a great singer indeed helped her a lot to attain heights. Her parents always supported her and wished to see her being a world renowned playback singer. Her first song recorded on mike as a professional singer was in Marathi and those sweet memories are kept safe inside her.


Entry and Contributions to Malayalam Film Industry
The magical moment when Shreya Ghoshal entered into the Malayalam Film Industry was through the film Big B directed by Amal Neerad in which Mammootty was portrayed as the lead character. 'Vidaparayukayano', a melodious song which had stuck many people deeply was her debut Malayalam song and had impressed many great musicians. But the key song which made her popular in Kerala is 'Chandhu Thottile' from the film Banaras. The highlighting talent of her is the way she pronounces malayalam and other unfamiliar languages with pure clarity. This is the main reason why she shined bright in many other languages within the country.

Shreya Goshal's contributions in Malayalam film industry along with its film are mentioned below:
Vida Parayukayaano (Big B), Chandhu Thottille (Banaras), Manju Mazha (Aagathan), Kizhakku Pookkum (Anwar), Kanninima Neele (Anwar), Vidhuramee (Gaddama), Kaanamullaal (Salt N' Pepper), Madhumaasa Mounaraagam (Rathinirvedam), Pathinezhinte Poonkaralil (Vellaripravinte Changathi), Paatil Ee Paatil (Pranayam), Vazhikannu Veruthe (Happy Durbar), Kilikal Paadum (Swapna Sanchari), Kaarmukilil (Bachelor Party), Cham Cham (Mallu Singh), Aromal Shalabhangalai (Cinema Company), Kandu Njan Kannane (Nandagopalam), Eeran Kattin (Salala Mobiles), Shalabhamaay (Kalimannu), Aardramee (Kalimannu), Paattukondoru Thenpuzhakkali (Radio Jockey), Manjil Mungippongum (Pranayakadha), Vathil Charumo (August Club), Pava njan kali pava njan (Ente), Naattumaaviloru Maina (916), Kurumozhiyude (Chattakkari), Nilaave (Chattakkari), Kaarmukilil Pidanjunerum (Bachelor Party), Thoovella Kasavulla (Kalikaalam), Punjabi prayer (Mallu Singh), Nee Padathe Padunna Pattu (Mallu Singh), Enthini Mizhi Randum (Ordinary), Shalaba mazha (Nidra), Aarezhuthiyaavo (Spanish Masala), Kannodu Kannoram (Veeraputhran), Aavani thumbi (Snehaveedu), Mazhathulli palunkukal (Pranayam), Kannoram Chingaram (Rathinirvedam), Madhumaasa mounaraagam (Rathinirvedam). Chembarathi kammalita (Manikyakkallu), Paatinte Palkadavil (Living Together), Anuraga vilolachanayi (Neelathamara), Vennilave (Sagar Alias Jacky Reloaded), Chanthu thotille (Banaras), and yet more to come.


Career
Sanjay Leela Bhansali who is a famous film director got impressed when she won 'Sa Re Ga Ma Pa' for a second time where she competed against senior singers. Thus he decides to offer her an opportunity to be the voice of leading female character of his film Devdas and the role was fabulously cultured by Aiswarya Rai Bhachan. Shreya managed to sing a total of five songs in this film which in turn lead her climb up the levels of success and popularity. She thereby landed up in the deck of top Bollywood female playback singers along with Alka Yagnik, Sadhana Sargam, Kavita Krishnamurthy and Sunidhi Chauhan. She was awarded as the best singer of the year in Filmfare Awards and even managed to grab up the R. D. Burman award for being an upcoming talented singer. Ilayaraja, A.R. Rahman, Pritam, Vishal Shekhar, Anu Malik, Himesh Reshammiya, M. M. Kreem, Nadeem Shravan, Shankar Ehsaan Loy, Mano Murthy, Gurukiran, Yuvan Shankar Raja, Harris Jayaraj and many other famous music directors were impressed with her talent and offered many exciting and challenging chances in their film.

She then managed to bang many awards across the country within no time. The song 'Mere Dholna' from Bhool Bhulaiyaa was indeed a privilege granted to her as a special honour. Today Ghoshal rose to stardom in Indian music industry with a bunch of mesmerizing hits in Hindi, Kannada, Tamil, Telugu, Malayalam, Bengali, Marathi, Bhojpuri and Meitei. 'Amul Star Voice Of India Chhote Ustaad', a singing reality show has turned out to be her preliminary experience as a judge. Many Television serials were titled with her song to raise its viewers.

The major highlighting talent of Shreya is that she is well suited for romantic songs and could even sing all the possible songs which can touch people's heart. Jism, Desh Devi, Saaya, Inteha, Khakee, Dhoop, Kuchh Kaha Aapne, Armaan, Tujhe Meri Kasam, Munnabhai MBBS, Lage Raho Munnabhai, LOC Kargil, Aetbaar, Out of Control, Police Force, Guru, Big B, etc. were all her films were she proved her talent to the fullest. Her successful career still continues and people are ambiguous to hear her latest release.