The Travancore Heritage Resort Thiruvanathapram - Facilities and Contact Details

The Travancore Heritage Resort Thiruvanathapuram facilities and contact details are given here. The Travancore Heritage Resort is one of the luxury resorts in Kerala. The resort is located at Chowara near Kovalam in Thiruvanathapuram district. Read this article to know more about The Travancore Heritage Resort.


Introduction
The Travancore Heritage Resort is one of the luxury resorts in Kerala. The resort is located at Chowara near Kovalam in Thiruvanathapuram district. The resort which sprawled across 15 acres of property is an ideal place for the tourists to escape from the hustle and bustle of city life and it keep your mind and soul in piece. This delightful resort with it nature rich surroundings enchant the tourists with its heart content. Built in traditional Kerala style architecture with timber on the roofs, the resorts makes you a cool, comfortable and reliable stay.


Accommodation
The Travancore Heritage Resort offers you a variety traditional Kerala style houses and stunning cottages set among the mid list of nature. The accommodation facilities here varies from pool mansions, premium suites, heritage premium, premium mansion, heritage homes, beach groves etc. The resort has two pool mansions which set with number of facilities such as air conditioner, king sized bed rooms, drawing rooms, sit-outs, bathroom with hot and cold running water, kitchenette etc. is an ideal suite for the honeymooners. Other suites are also set with top class facilities and amenities.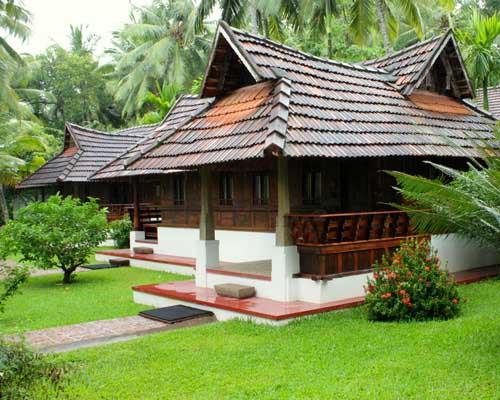 Dining
The Travancore Heritage Resort has number of restaurants which serves delicious cuisines for the tourists. The resort offers you an open house restaurant, a beach side restaurant 'ocean grill' and an ayurvedic restaurant. The open house restaurant which is more than 100 years old have the ability to treat 80 guest at a single time. The restaurant which overlooking the pool mainly deals with the sea food delicates such as prawns, Karimeen, lobsters, crabs, mussels etc. The beach side restaurant which overlooking the sea also specializes in sea foods.


Ayurvedic centre
Ayurveda is known as the science of life. The Travancore Heritage Resort presents Ayurveda in its purest form under the maintains of experienced ayurvedic doctors and therapists. The various practices here performed include rejuvenating therapies, clinical packages and beauty care treatments. The resort has an ayurvedic garden , where more than 500 varieties of herbs are allowed to grown.


Facilities
The Travancore Heritage Resort is set with a lot of facilities to make your stay reliable and comfortable. Here you can avail a reception lobby, which is set with a library, places for various games, internet, TV, locker facility etc., air-conditioned conference hall with a seating capacity of more than 100 people, Two swimming pool besides a kids pool, well equipped health club, travel desk and shopping, rent car service etc.


Near By Attractions
Kovalam: Kovalam is a world renowned beach which is situated 16 km from Thiruvanathapuram. An impressive number of visitors arrive here on every day to enjoy the beauty of the beach. Kovalam beach offers you a variety of activities such as cycling, sunset viewing, catamaran rides, snorkeling etc.

Shankhumugham: Shankhumugham is also a famous beach which is situated 8 km from Thiruvanathapuram. The sculpture of a mermaid Matsya Kanyaka which is 35m long is an interesting view for the tourists.

Akkulam backwater: Akkulam, a famous tourist village which is situated 10 km from Thiruvanathapuram. Akkulam offers you a variety of entertaining activities such as boating, musical dancing fountain, children's park, swimming pool etc.

Padmanabhaswamy Temple: Padmanabhaswamy Temple is situated near the resort. The temple is dedicated to Lord Vishnu and is a blend of Kerala and Dravidian style architecture. The temple is famous for its exquisite stone carvings and mural paintings.


Contact Details
The Travancore Heritage Resort
Chorara P. O., Trivandrum, Kerala, India
Pin code : 695501
Tel : 91-471-2267828, 2267829, 2267830, 2267831
Fax : 91-471-2267201
Email : reservation@thetravancoreheritage.com
Website : www.thetravancoreheritage.com