Premi Vishwanath: Not Karutha Muthu, Velutha Muthu in real life

Wish to know about Premi Vishwanath, Asianet Karutha Muthu serial actress? Find Karuthamuthu serial actress real photos. Get Karuthamuthu actress Premi Viswanath stills, original photos of actress Premi Viswanath. Karutha Muthu serial heroine Premi is on cloud nine after getting overwhelming response for her acting debut. Being a popular model based in Kochi, Premi Vishwanath gives life to the title character Karthika in the seral 'Karutha Muthu'.


Even though not an addicted fan of daily soaps, the promo of 'Karuthamuthu' truly grabbed my attention due to the screen presence of lead artist and also interesting voice over by Aliyar. So who is the new face who acts as Karthika, the title character? The search finally ended with knowing the fact; Premi Vishwanath, a freelance model who had been a part of few ads films is giving life to Karthika, the title role in the serial 'Karthutha Muthu'.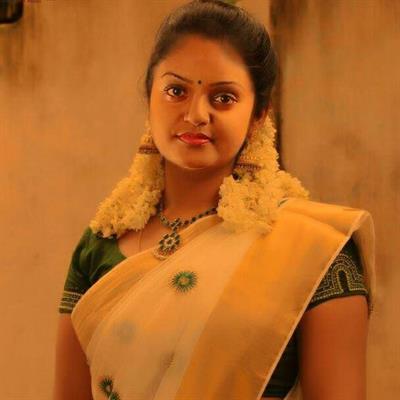 Premi Vishwanath is excited to get a real break in television serial industry by giving life to a very challenging character. The serial which is being aired in Asianet TV channel from Monday - Saturday at 10.00 PM has already managed to get positive response from the family audience. Premi too clinched the hearts of the female spectators through her spectacular acting and dialogue delivery.

The serial 'Karuthamuthu' tells a heart touching story of a girl striving for love and respect in a world filled with stone-hearted fair-skins. Even though her father caressed her and took efforts to design a bright future, his sudden death provided complete blackout in her later life.

Due to her black complexion, she had to keep herself away from the crowd and public functions. Many of her marriage alliances turned down leaving her heart broken and lonely. For the surprise of every one, Dr. Balachandran wished to marry Karthika. The hidden reason for the proposal takes the story to next stage. As Balachandran's mother is very beauty conscious, she gives tough time for Karthika.

How she overcomes the difficulties with the help of her husband and father in law forms the crux of the story. Directed by Praveen Kadakkavoor, the serial is also blessed with the presence of Sharanya Sasi, Lalitha, Sreelatha Namboothiri, Kishore Sathya, Jayachandran and Dr. Sharmila.

Premi Viswanth is truly thrilled for the awe-inspiring response for reprising the role of Karthika in the serial. As the real face of 'Karthika' was finally unveiled, the real credit should go to the makeup artist who has turned the 'Velutha Muthu' to 'Karutha Mathu'.