Kerala PSC Secretariat Assistant Exam Syllabus 2015

Kerala PSC exam syllabus for Secretariat Assistant recruitment 2015 is given here. Kerala PSC Secretariat Assistant Exam Syllabus 2015 pdf will be published in the PSC website. The notification & syllabus of Secretariat Assistant 2015 exam 2015 will be officially published on 31st December 2014. The rank list will be published on 8th April 2016. The last secretariat assistant exam was held on 5th January 2013.


The Kerala Public Service Commission will officially publish the notification for the Secretariat Assistant recruitment on 31st December 2014. With the exam proposed to conduct in months of May and June 2015, the rank list will be published on 8th April 2016. The Kerala PSC will notify for the secretariat assistant post through their official website. Candidates can check the application method, qualification to apply for the written test, and last date for application from the PSC portal.

As the Secretariat Assistant profession is the dream of millions of job seekers in the state, around 4 lakhs applicants are expected to apply in the upcoming exam. The exam is being conducted to appoint selected persons in the major organizations in Kerala which include Government Secretariat, Public Service Commission, Local Fund Audit, Advocate General's Office and Anti Corruption Bureau.

As Secretariat Assistant carries promotion scope, growth, authority and power, the youngsters are more attracted to the job. Through promotional hierarchy, one can become the Section Officer and finally reach up to the top level Special Secretary. As soon as the notification gets published in the web portal, candidates need to submit the application through the one time registration process.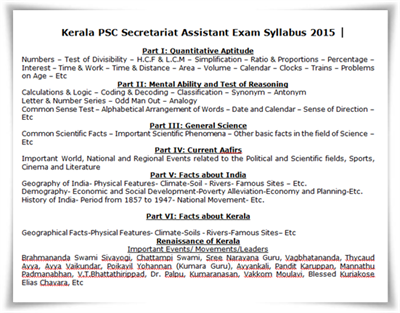 The secretariat assistant is a a degree level examination, the question paper will have tough questions from the deep portions of the syllabus. Kerala PSC exam syllabus for Secretariat Assistant recruitment 2015 is given here.
1. Quantitative Aptitude
2. Mental Ability and Test of Reasoning
3. General Science
4. Current Affairs
5. Facts about India
6. Facts about Kerala
7. Constitution of India
8. General English
9. Malayalam
10. Information Technology & Cyber Laws

Part I: Quantitative Aptitude
Numbers – Test of Divisibility – H.C.F & L.C.M – Simplification – Ratio & Proportions – Percentage – Interest – Time & Work – Time & Distance – Area – Volume – Calendar – Clocks – Trains – Problems on Age – Etc

Part II: Mental Ability and Test of Reasoning
Calculations & Logic – Coding & Decoding – Classification – Synonym – Antonym
Letter & Number Series – Odd Man Out – Analogy
Common Sense Test – Alphabetical Arrangement of Words – Date and Calendar – Sense of Direction – Etc

Part III: General Science
Common Scientific Facts – Important Scientific Phenomena – Other basic facts in the field of Science – Etc

Part IV: Current Aafirs
Important World, National and Regional Events related to the Political and Scientific fields, Sports, Cinema and Literature

Part V: Facts about India
Geography of India- Physical Features- Climate-Soil - Rivers- Famous Sites – Etc.
Demography- Economic and Social Development-Poverty Alleviation-Economy and Planning-Etc.
History of India- Period from 1857 to 1947- National Movement- Etc.

Part VI: Facts about Kerala
Geographical Facts-Physical Features- Climate-Soils - Rivers-Famous Sites– Etc

Renaissance of Kerala
Important Events/ Movements/Leaders
Brahmananda Swami Sivayogi, Chattampi Swami, Sree Narayana Guru, Vagbhatananda, Thycaud Ayya, Ayya Vaikundar, Poikayil Yohannan (Kumara Guru), Ayyankali, Pandit Karuppan, Mannathu Padmanabhan, V.T.Bhattathirippad, Dr. Palpu, Kumaranasan, Vakkom Moulavi, Blessed Kuriakose Elias Chavara, Etc

Part VII: Constitution of India
Basic Facts-Features-Citizenship- Fundamental Rights & Duties- Directive Principle- Union Government- Legislature- State Executive - Union Territories- Apex Courts- Comptroller and Auditor General- Public Service Commissions and Other Important Offices- Important Amendments- Etc.
Rights – Right to Education – Human Rights – Human Rights Commission – Rights to Information - - Information Commission – Social Audit – Lokayukta – Ombudsman – Women Empowerment – Women's Commission - Legistation against Child Labour and Atrocities against women and Scheduled Castes and Scheduled Tribes – Etc

Part VIII: General English
Grammar- Agreement of Subject and Verb- Confusing Adjectives and Adverbs- Comparison of Adjectives- Correct usage of Articles - Prepositions- Direct and Indirect Speech- Active and Passive Voice- Correction in Sentences-Etc. Vocabulary- Gender- Singular and Plural- Synonyms- Antonyms- One word Substitutes- Problem concerning words- Idioms and their meanings-Etc

Part IX: മലയാളം ഭരണഭാഷാ പരിചയം
വ്യാകരണം - ഭാഷയിലെ ശരിയായ പ്രയോഗം - ശരിയായ പദം - ശൈലി - അർത്ഥം - അർത്ഥ വ്യത്യാസം - വിപരിത പദം - പദസംയോഗം തുടങ്ങിയവ

Part X: Information Technology & Cyber Laws
Fundamentals of Computers-Internet Etc.-Cyber Laws

A great knowledge about the syllabus, balanced coaching from the nearby centres, reading newspapers, rank file of Secretariat Assistant exam, text books of Social Science, Science and Mathematics up to class 10, referring previous secretariat assistant exams question papers and browsing the internet would give better result.