Kerala Strikers Team (Squad) for CCL 5 T20 2015 Announced

Are you looking for the team members of Amma Kerala Strikers in the upcoming CCL 5 T20 cricket tournament? Kerala Strikers team for fifth edition of Celebrity cricket league has been announced today in a press meet by Mohanlal. Asif Ali was named the captain of the Amma Kerala strikers in the fifth CCL T20 cricket tournament. Here you can find complete team members list and schedule of Kerala Strikers match in the fifth edition celebrity cricket league.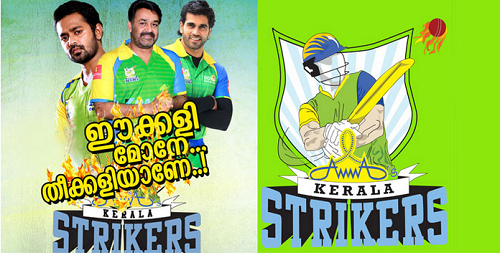 Amma Kerala Strikers team for the upcoming Celebrity cricket league has been announced. Asif Ali will lead the Kerala strikers team in the fifth edition of CCL T20 cricket match. Amma Kerala Strikers is representing Malayalam movie industry in the non professional cricket tournament CCL 5 T20 cricket matches. The team was announced by the team owner Mohanlal in a press meet today.

Being the current runners up in the Celebrity cricket league tournament, Amma Kerala strikers is entering to the fifth edition with the hope of grabbing the CCL 5 trophy. With the presence of many young talented players in the team, the cricketing fans are excited to watch the fireworks by the Kerala team in the CCL 5. Rajeev Pillai, Madan Mohan, Arjun Benny, Asif Ali are few names in the top order batting side of Kerala strikers team.


Kerala Strikers team members (squad) for CCL 5 T 20 2015

Amma Kerala Strikers will be lead by the popular young actor Asif Ali in the fifth edition of Celebrity cricket league (CCL T20) matches. The team includes, Mohanlal, Asif Ali (C), Unni Mukundan, Rajeev Pillai, Bineesh Kodiyeri, Riyaz Khan, Manikuttan, Arjun Nandakumar, Vinu Mohan, Suresh Nair, Prajodh Kalabhavan, Vivek Gopan, Arun Benny, Madan Moha, Rajesh Hebbar, Nishanth Sagar, Jayan, Munna Simon, Bala and Sreejith Ravi.

Pankaj Chandrasenan is the chief coach of Kerala strikers team owned by Mohanlal, Rajkumar Sethupathy, Sripriya, Lissy, Shaji PM, Jaison Pulikkottil. MA Sunil is the assistant coach while Muthu kumar is the team physio for Kerala strikers in 2015 CCL T20 cricket tournament. Bhavana and Mythili are the brand ambassadors for the Amma Kerala strikers team while Edavela Babu is the Manager.


Kerala Strikers match schedule in CCL 5 T20

Kerala strikers representing Malayalam movie industry belongs to Pool B of the CCL 5 T20 and group comprising of Mumbai Heroes, Chennai Rhinos and Veer Marathi. The first match of the current runners up Kerala Strikers is on 11th January 2015 against Chennai Rhinos at Hyderabad Lal Bahadur Shastri stadium. The match will be played at ISI 2.30 PM to 6.30 PM. Detailed schedule of Kerala strikers matches in CCL 5 T20 are given below.


11/1/2015(Sunday)- Hyderabad- Kerala Strikers Vs Chennai Rhinos- 2.30 PM 6.30 PM
17/1/2015(Saturday)- Ranchi- Kerala Strikers Vs Mumbai Heroes- 2.30 PM 6.30 PM
24/1/2015 (Saturday)- Hyderabad- Kerala Strikers Vs Veer Marathi- 7.00 PM 11.00 PM
Watch Kerala Strikers match live telecast and live streaming online

Kerala strikers matches in CCL 5 T20 will be telecasted by Surya TV and Rishtey TV. You can watch Kerala Strikers match in fifth edition of Celebrity cricket league in the following websites.
http://www.reelax.in/live


http://www.youtube.com/ccl