Compartment: Tale of differently able children

Compartment malayalam movie directed by Salim Kumar featuring Arun and Angel in lead will reach theatres in February 2015. The movie zooms into the life of two children with different ability. More than a docu – fiction, elements of humour is also added in the movie. Other than scripting the movie, Salim Kumar himself produced it also. Read more to know about the upcoming malayalam movie 'Compartment'.


After donning various character roles as an actor, National award winner Salim Kumar is gearing up to present his ability behind the camera too. First time in his career the actor is helming a docu-fiction movie which zooms into the life of two children with different ability. Arun and Angel from Fort Kochi will give life to the lead characters in the movie which is titled 'Compartment'. Apart from direction; Salim Kumar himself has scripted and produced the movie.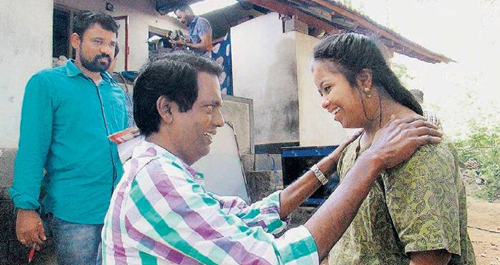 The movie is titled as 'Compartment' so as the world is a closed compartment with differently abled people. According to the actor, he has completed the movie after one and half years of exhaustive research after intermingling with differently abled children and their teachers.

The story of 'Compartment' develops trough the lead characters; Arun and Angel. They belong to a sector that never got depicted in movies. It would also be a strong message against the tendency of compartmentalizing things. Being the first movie made with differently abled children in the leading roles, the actor and his team has approached The Guinness Book of World Records authorities regarding this accomplishment.

After the post production formalities, the movie will reach theatres in February 2015. Salim Kumar is also currently working for his next project, a Sanskrit based movie based on the legendary festival 'Mamangam'. The actor himself will enact the role of the guru who trains the warriors. Even though Salim Kumar is much known for his comic roles, he is better known for his acting brilliance in the National Award winning movie 'Adaminte Makan Abu'.

Unlike the other actors, Salim has become much selective as he thinks in a different way. During his busy schedule, Salim Kumar had found time to act in Salim Ahamed's 'Pathemari' and Deepu Karunakaran's 'Fireman'. Both movies would reach theatres very soon.