35th National Games Kerala 2015 opening ceremony live telecast on TV channels

Watch live 35th national games Kerala 2015 opening ceremony telecast on DD Sports, DD Malayalam TV Channels and online streaming on http://www.kerala2015.com websites. The opening ceremony kick starts on January 31 from 06:00 p.m onwards at Thiruvananthapuram. live performance of Mohan Lal owned Lalisom music brand, presence of Sachin Tendulkar, popular movie sporting, political personalities are major highlights of the ceremony Go through below article for more details .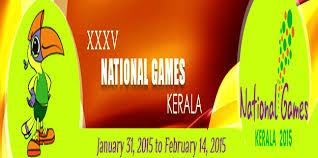 One of the major sporting events of India, the 35 th edition of National Games Kerala will held from January 31 – February 14, 2015 across various venues in the state. Kerala state government has taken it as prestige issue hence constructed excellent stadiums and great infrastructure to make the event a grand success. The inaugural cum opening ceremony of 35 th National Games will start at around 06:00 p.m IST on January 31, 2015 at newly constructed Greenfield Stadium, Karyavattom, Thiruvananthapuram. Ammu, the horn-bill is the official mascot of Kerala National games. The opening ceremony will have Union Minister for urban development M.Venkaiah Naidu as Chief Guest who handovers the games torch to Sachin Tendulkar, goodwill ambassador of national games, the games flame lit jointly by Olympian P.T Usha and Anju Bobby George, world popular sporting personalities from Kerala state, after receiving the torch from Sachin. The opening ceremony will be grand event with various highlights consisting of live musical performances by artists and the presence of Kerala's top politicians, movie celebrities and sporting personalities.


Watch live 35 th national games opening ceremony on TV channels

The opening ceremony of the 35 th National Games 2015 Kerala will be live telecasted on host broadcasting partner Doordarshan's below given TV channels from 06:00 p.m IST onwards to until the end of the ceremony.

Doordarshan National DD 1
DD Sports
DD Malayalam

Not only above-mentioned TV channels but also major news telecasting cum broadcasting TV channels in Kerala Asianet news, Kaveri, Matrobhoomi will air the live National games opening ceremony.
Indian sport lovers can hear the live radio commentary of opening ceremony and national games on official broadcasting partner AIR, All India Radio.


Online live streaming of National Games Kerala 2015

Those willing to watch the opening ceremony of 35 th national games Kerala online can go through the below given website links and enjoy the event on PC, Laptop, Tablet or Smartphones.

http://www.kerala2015.com
http;//www.youtube.com/DoordarshanNational
http://www.turbotv.in/dd-malayalam-live
http://live1.asianetnews.tv/
http://mathrubhuminews.in
http://www.reporterlive.com/live
Lalisom Music Band Live Performance and Highlights of opening ceremony

The opening ceremony will be visual feast for all and the major highlight of 35 th National games opening ceremony will be the live stage performance of Lalisom - the Lal effect music band, owned by Malayalam superstar Mohanlal. The organizers of the national games have roped in Mohanlal's brand for a record fee of 2 crore rupees. The attraction of the evening will be live singing performance of Mohanlal for the music composed by Rathesh Vega. Along with Lalisom performance, 5000 artists will display the cultural extravaganza of God's own country Kerala, directed by T.K Rajeev Kumar.

The opening ceremony will be attended by thousands of Keralites and those can not make it to the stadium has the opportunity of watch the grand event live on TV channels and online live streaming on websites.