Kerala SSLC Results 2015 to be Published Today at Official Websites

Kerala SSLC exam results 2015 will be published today at official websites www.keralapareekshabhavan.in, wwww.results.kerala.nic.in, www.keralaresults.nic.in, www.results.itschoool.gov.in and www.prd.kerala.gov.in. After the Kerala SSLC exam results 2015 get announced (declared), the results will be published at various websites owned by the state government. State Education Minister P. K. Abdu Rabb will announce the results today at 4 PM.


The Kerala SSLC examination results 2015 will be announced on Monday. State Education Minister P. K. Abdu Rabb will announce the results today at 4 PM. This year, a total of 4,68,495 students had appeared for the examination. The Examination Board will meet on Monday morning to finalize the results. With the evaluation camps set from 31st March 2015, the scrutiny of the papers ended on 16th April 2015.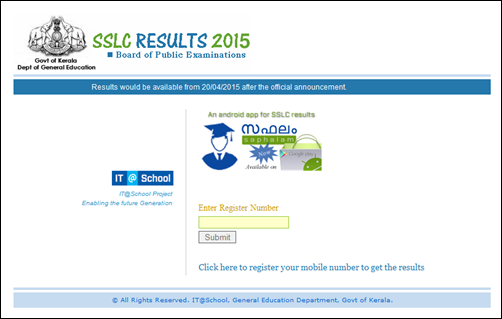 The tabulation was finished at a record pace as more valuations centres were added than previous year. In 2014, the state registered 95.47 per cent win. The state education department has set up all arrangement to deliver the results on time. Apart from various websites managed by the Education Department, government call centres, SMS facility and mobile app would facilitate the students to know their results. Students and parents can use the Citizen Call centre to get the results.

BSNL Landline: 155300
BSNL Mobile: 0471 – 155530
For others: 0471 – 2335523, 2115054, 2115098

To use the SMS facility, users need to type 10 send to 56263
Additionally, www.examresults.net has launched a Android Mobile App completely dedicated for students to get their exam results. Students can download the app from the website or go to the URL http://bit.ly/Exam-Results-Mobile-App.


Kerala SSLC exam results 2015 websites

The SSLC results for the year will be available in various websites which are managed by the education department.

www.keralapareekshabhavan.in
wwww.results.kerala.nic.in
www.keralaresults.nic.in
www.results.itschoool.gov.in
www.prd.kerala.gov.in