Radhika Tilak Playback Singer - Profile & Biography

Radhika Tilak playback singer profile & biography are given here. Radhika Thilak is a the popular South Indian playback singer who passed away on 20th September 2015. She has a mesmerizing voice which attracts the crowd to her. However she couldn't utilize her full potential. Read on to know more about her career life as well as personal life.


Personal Life of renowned Singer Radhika Thilak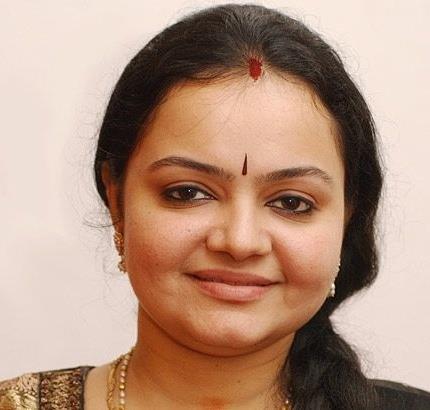 Radhika Tilak, the owner of a blessed voice was born in the year 1970. She who had an awesome voice and the inborn talent to sing was trained in classical music from a very early stage itself. This helped her to grow in her career as a playback singer. Radhika used to get lot of awards and recognition during her school days. She was very good at light music and that paved her way to greater heights. The pretty singer is married to Mr. Suresh Krishna and the couple was blessed with a daughter named Devika Suresh. They were in Dubai for few years as her husband was employed there.

The legend Radhika Thilak passed away on 20th September 2015 at 8.15 pm at a private hospital in Kochi, Kerala. She was only 45 years then. Radhika was fighting cancer for about more than a year now and the worst fact is that the blessed singer was affected by throat cancer. This was a barrier for the artist to sing as she was advised not to give more strain to her throat. Radhika took a break from the Malayalam film industry and was totally leading a family life for quite sometime now. However luck did not favor the family and she had to leave this world. Radhika was at her residence at Panampally Nagar during her last days and was taken to the hospital following a fever.


Career Life of Playback Singer Radhika Thilak

Radhika Tilak is an amazing South Indian singer who has sung more than 70 film songs. She is a very popular face in Kerala as she used to sing in Doordarshan. Radhika even used to sing for All India Radio programs as well. Her voice is a very familiar one to each and every Malayalee. However the artist could not utilize her full potential as she stayed in the shadow of K S Chithra and Sujatha who is ruling the Malayalam film industry for decades. In spite of all the struggles she had to face in her career life, Radhika was able to make her presence known. The feel she gives to each song is just amazing and we will just be into the song while she sings. It is really a God gifted talent and she was indeed a blessed singer.

Apart from film songs and light musics, Radhika has also sung for many devotional albums. The song 'Deva sangeetham nee alle', from the film Guru; 'Thirvaathira Kai Nokkiya' & 'Manjakiliyude mooli pattunde' from the film Kanmadam; 'Ninte Kannil' and 'Ente ulluudukkum kuthy' from Deepasthambham Mahaashcharyam; 'Manasil midhuna Mazha' of Nandanam atc are some of her hit songs in Malayalam. Radhika, as a singer was lucky to sing duets with renowned singers like K J Yesudas, M G sreekumar, G Venugopal etc. The demise of the singer was a great shock to her family as well as to the whole of Kerala. The loss of the beautiful lady with a mesmerizing voice is one of the biggest loss for the Malayalam film industry. However she will be still known and respected through her songs.