Lakshmi Priya - Malayalam Serial Actress Profile & Biography

The below article is about the serial actress Lakshmi Priya who has now been a familiar face for the Malayali audience through the serials Karutah Muthu, Bhagya Devatha etc. It is a fact that we the viewers can't forget Shivakami or Kanya, hence the actress who has done these roles also has come close to our heart. Read the article to know more about this amazing actress.


Personal Life of Serial Actress Lakshmi Priya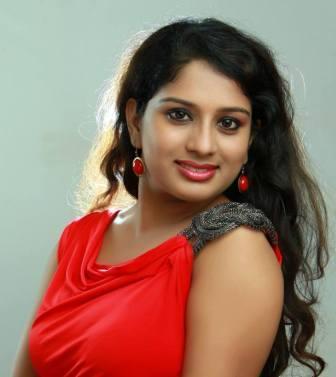 Lakshmi Priya is yet another upcoming cine artist who is blessed with a lot of talents. She is none other than 'Shivakami' of the Malayalam serial 'Bhagya Devataha' and 'Kanya' of the serial 'Karutha Muthu'. As there are few other actress with the same name, it is easy to cause confusion to the audience. The vibrant actress, Lakshmi Priya was born to Mr. Ajaya Kumar and Ms. Mini Ajay. Her father works for the company 'K.M.M.L'. Lakshmi Priya also has a sister named Priyanka Ajay. The beautiful actress is a trained classical dancer who has specialized in different forms of dance such as Mohiniattam and Bharathanatyam. During her school days she has won many prizes in dance competitions at various levels. Lakshmi is also good at Mono Acting and has performed it in many stages during her school days. Definitely her dancing skills along with the experience in mono act has truly helped her in her career life.


Career Life of Serial Actress Lakshmi Priya

The young and pretty actress Lakshmi Priya made her debut in the filed of acting industry through the Malayalam soap opera named 'Geethanjali', telecasted in Surya TV. Like many other artists, even her first role was not a very prominent one. However she became noticed after her performance in the Mazhavil Manorama serial 'Bhagya Devatha', directed by Shiju Aroor under the banner of Day Night Creations. The story of this serial revolves around Maha Lakshmi, a strong devotee of Chottankikara Amma and 'Shivakami' who wants to see the fall of Maha Lakshmi. Actress Laya performs the role of 'Maha Lakshmi' and Lakshmi Priya is portrayed as 'Shivakami'. Lakshmi has done a wonderful job as 'Shivakami' and her performance is worth mentioning. This negative character of hers was a very prominent one which gave her lot of fame and popularity. Lakshmi did get lot of positive feedback about her performances as 'Shivakami' from the Malayalai viewers in and out the nation.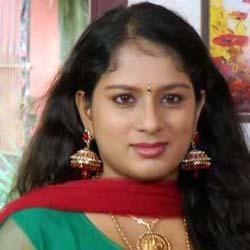 After the serial 'Bhagya Devatha', actress Lakshmi Priya became a known face in the Malayalam Showbiz industry. This added to her confidence and it paved way for many more offers. However she managed to continue her studies along with her passion and career. The actress was then seen in yet another Malayalam soap opera named 'Karutha Muthu', aired in Asianet TV. This family serial is directed by Praveen Kadakkavoor under the banner of Bros Creations. Anchor turned actor Kishore Sathya and Premi Vishwanath plays the male and female lead roles in this serial. The TV soap opera, 'Karutha Muthu' revolves around the story of a beautiful black lady named 'Karthika Balachandran'. In this serial Lakshmi Priya gives life to the character 'Kanya Jayachandran', the sister of the heroine. Kanya is also the wife of Jayachandran, the hero's brother. In this serial, the young actress got a very distinct role and the serial too is a success so far. The actress is lucky to be a part of the team and also the project has helped her to learn a lot about acting. Also it gave her lot of fame and popularity too.

Initially the role of 'Kanya' was done by the prominent actress Saranya Sasi. However due to various reasons, she quit and Lakshmi Priya was lucky enough to get that role. Lakshmi is so far doing a fantastic job as 'Kanya'. It is a negative character which turn out to be a positive one later. Initially 'Kanya' was portrayed as a jealous and cruel girl who disliked her elder sister 'Karthika'. It was actually the influence of Kanya's father and grand mom which made her a selfish lady. This has created lot of problems in their lives, however Kanya had an abortion and had a slight mental disorder associated with it; after which the character turns out to be a good one. Lakshmi's acting as a mentally down person was amazing and also her revengeful and cunning looks are worth mentioning. This opportunity is indeed a blessing for her and she is so far doing justice to her character.


Awards & Recognitions

Lakshmi Priya, no doubt is a very talented and amazing actress. Even though she is new to the field of acting, within a short span of time, Lakshmi was able to conquer the mind of millions of Malayali viewers. The popularity and fame now she is enjoying is the first award that the audience has given her. Apart from that, the young actress Lakshmi Priya was also recognized by the Asianet Team. She was awarded the Special Jury Award during the Asianet Television Awards 2015. It is indeed a great achievement for an upcoming artist. As Lakshmi has proved herself in the very beginning, it will be easy for her to grow in her career life. Wishing the actress good health and prosperity.