Ettumanoor Mahadeva Temple, Kerala

Ettumanoor Mahadeva temple is an ancient temple of Kerala. This temple is dedicated to Lord Shiva. It is located at 12km north of Kottayam district on the road to Ernakulam. It features a circular shrine, fine wood carving and one of the earliest(16th century)and most celebrated of Kerala murals.


About the Temple

Ettumanur Mahadeva temple is one of the most ancient temple of Kerala. This temple is located at Kottayam district on the road to Ernakulam. The word 'manur' means the land of deers. It is believed that the sage Vyasa and the Pandavas had worshipped at this temple.


Legend of the Temple

The epic says that Lord Shiva blessed one saint named 'Khara Prakasha' for his worshipping. Lord shiva blessed him with his worship idol known as 'Shivalinga' which he installed at Ettumanoor. This place remains unknown for many years and this place become a dense forest. One day a lady came this forest to collect arrow roots. her blade strikes this 'Shivalinga' and it began to bleed. After informing it to the authorities. Then they constructed the temple here and the 'Sivalinga' become the deity of the temple.


Beauty of the Temple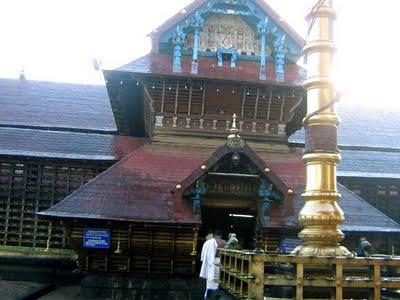 The present building was reconstructed in 1542 AD. The Kerala murals, fine wood carvings and circular shrines are its major features. The Dravidian mural paintings can be seen inside and outside the entrance of the temple.The deity of this temple is Lord Shiva. This temple features a four meter mural which shows Lord Shiva dancing, known as 'Shiva Thandavam'. The sub-ordinate deities are Bhagavathy, Shastha, Gnapathy and Yakshi. The roof of the temple contains 14 ornamental tops and they are covered with copper sheets.

The important ritual of the temple is 'Thulabhaaram'. Inside the temple there is a golden staff. A bull surrounded by small bells and metal leaves of the banyan tree on the top of this idol was one of the finest architecture in Kerala.


Celebrations

A ten day annual festival is conducted every year here with celebrations including music which is known as 'arattu festival'. The festival is conducted on february or march season. At this festival seven and half elephants made of gold are shown to the public, a lot of people came to view this. They are nearly about 13 kilograms.This temple stands in major position in South India. The devotees from many parts of the country and also from abroad are visiting this temple.


How to Get There

Regular bus services are available from Trivandrum, Kollam and Ernakulam. The nearest railway station is Ettumanur railway station. Almost all trains have stops at the festival season.