National Bravery Awards 2010

Article gives information on National Bravery Award for Children 2010, National Bravery Award 2010, Winners of National Bravery Award, Bravery Awards 2010, Bravery Awards India 2010, Bravery Awards on Republic Day 2011, National Bravery Awards on Republic Day Parade, Indira Gandhi Scholarship for Bravery Awards Childrens 2010, ICCW National Bravery Awards, Bapu Gaidhani Award 2010, Geeta Chopra Award 2010



Job oriented Digital Marketing Courses in Kerala.
Call +91 8138875600 for details
National Bravery Awards 2010

The National Bravery Award was first introduced in 1957 by Indian Council for Child Welfare (ICCW) to honour the brave children for their outstanding performance in order to encourage them on their meritorious service. The Bravery Awards are one of the most prestigious Civil Awards in India. Awards given under National Bravery Awards are as follows:


The National Bravery Award - initiated on 1957

The Sanjay Chopra Award - Initiated on 1978

The Geeta Chopra Award - Initiated on 1978

The Bharat Award - Initiated on 1987

The Babu Gayadhani Award - Initiated on 1988



National Bravery Awards on Republic Day 26th January 2011

The list of National Bravery Awardees of India this year comprises nine girls and 14 boys with a total of 23 children have been selected across the country. The National Bravery Award by ICCW comprises cash award, a medal, certificate and they will get financial assistance in education by ICCW's Sponsorship Program, and Government of India also helps them to pursue professional courses under Indira Gandhi Scholarship Scheme. Some of the awardees will get support, till they complete their graduation. The names for National Bravery Award For Children of India are announced every year on November 14th and the Winners of National Bravery Award for Children 2010 will recieve this awards from Prime Minister of India. The awardees will participate in the Republic Day Parade on 26th January and get honoured.


Awardees of National Bravery Award 2010

Bravery Awards 2010 were given to 4 girls and 19 boys. Out of these 23 children, eight of the awardees are from Northeastern States.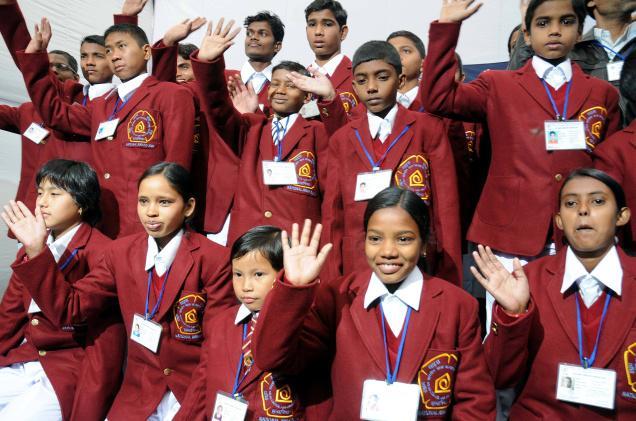 Ipi Basar of Arunachal Pradesh, aged 16 has been selected for Bapu Gaidhani Award of National Bravery Award who saved two lives in a fire accident. Master Priyanshu Joshi of Uttarakhand aged 11, receives Sanjay Chopra Award of National Bravery Award 2010 who saved his sister from the clutches of the leopard with his bare hands and school bag. Moonis Khan of Madhya Pradesh of 15 years has saved an old man from a railway accident and he will be awarded with Babu Gaidhani Award. Bibek Sharma from Sikkim aged 11 gets National Bravery Award who saved a little girl who fell from the second floor of a building. Shrawan Kumar of Rajasthan who is the youngest National Bravery Award Winner of 2010 saved one year old girl and her sister from a burning hut in Sarneshwar Village. Other receipients who gets awards are Kalpana Sonowal and Rekhamoni Sonowal of Assam, Rahul Kurrey and Parvati Amlesh of Chhattisgarh, Rohit Maruti Mulik of Maharashtra, Md. Nurul Huda of Manipur, Freedy Nongsiej and Lovelystar K. Sohphoh of Meghalaya, Lalmawizuali of Mizoram, late Chhampa Kanwar of Rajasthan, Bibek Sharma of Sikkim, Uttam Kumar of Uttar Pradesh and late Shruti Lodhi from Uttarakhand.


Four Children from Kerala Receives National Bravery Awards

Out of 23 Awardees Jismi, Vishnu Das, Anoop and Raj Narayan are the four brave kids have bagged the National Bravery Awards 2010.


Bravery Award 2011 - Geetha Chopra Award Recipient Jismi

Jismi is just twelve years who gets the prestigious 'Geeta Chopra Award' for rescuing a woman and her two kids from drowning in a pond. Jismi who is the daughter of manual labourer Murali and Bindu, studying ninth standard at Cherpu Government Vocational Higher Secondary School. She belongs to Perinchery of Thrissur District in Kerala.


Bravery Award 2011 - Bapu Gaidhani Award Recipient Vishnu Das

Vishnu Das aged 17, from Pallakkad is a plus one student of The Sri Sankara Oriental Higher Secondary School, Lakidi gets 'Bapu Gaidhani Award' for rescuing two children from drowning and he also attempted to save their mother.


Bravery Award 2011 Recipient Anoop

Anoop is the son of Madhusoodanan Nair and Umadevi from Kainakari Alappuzha is an 8th standard student at the Chambakkulam Bishop Kuriyalancheri Public School bagged the award for saving a five year old child from drowning.


Bravery Award Recipient Raj Narayanan

Raj Narayanan Class 9 student of NSS High School, Kuttanad is the son of Rajesh. Raj Narayan was selected for Bravery Award for saving a boy from drowning in a river in Alappuzha.

One of the main attractions on Independence Parade 2011 is that these young brave hearts will be honoured and receives Bravery Awards India 2010 on Republic Day 2011.