Prithviraj Sukumaran Biography Wiki Career Facebook Profile Contact Info

Prithviraj Sukumaran is a Malayalam Actor from Kerala. He has acted in a number of Malayalam films and as well as Tamil movies. Prithviraj is getting married with mumbai based TV journalist after his Malayalam Film 'Urumi'. Read more about Prithviraj Sukumaran Biography, Wiki, Career, Profile, Awards and lot more here.


Prithviraj Sukumaran Biography Wiki Career Facebook Profile Contact Info
Prithviraj Sukumaran Malayalam Actor Biography

Prithviraj Sukumaran is a South Indian Film Actor born on October 16, 1982 in Trivandrum, Kerala, India. Prithviraj is the younger son of popular Malayalam film actors Sukumaran and Mallika. His elder brother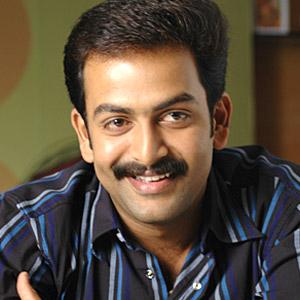 Indrajith Sukumaran and Sister-in-law Poornima are also Malayalam film actors. He did his schooling at Sainik School, Thiruvananthapuram and Bharathiya Vidya Bhavan School. On his school days he used to act in various drams in their school annual day celebrations. He is an active person who take part in debates and elocutions at school level. He won the title "Mr LA Fest" in an inter school art festival hosted by Loyola School, Thiruvananthapuram. He took a degree course in IT from the University of Tasmania, Australia. It was at this time he was grabbed into Malayalam Film Industry by a Fazil Malayalam film director who introduced him to Renjith screen playwright who made him to play the lead role in Malayalam Film 'Nandanam' in the year 2002.



Prithviraj Sukumaran Filmography

It was Renjith who was searching for a new face casted Prithviraj in his directorial debut film 'Nandanam'. After his wonderful performance he was flooded with offers through which he established himself in Cinema, through various films such as 'Ananthabhadram'(2005), 'Chocolate'(2007), 'Vaasthavam', 'Classmates', 'Thirakkatha and Malayalam film 'Thalappavu'(2008).
He has acted in a number of films with leading actors of malayalam film industry such as Vinayan, Kamal, Bhadran and Lohithadas and his performance in Malayalam movie 'Stop Violence' (2002) and 'Swapnakoodu' (2003) which was a box-office hit. The Malayalam film 'Vargam'(2006) has claimed him a best actor as he casted as a sub inspector Solomon Joseph in the film where he had to go through a wide range of emotions and he did his best on this film. In 2006, Lal Jose's malayalam film 'classmates' which turned out to be the one of the Malayalam Cinemas biggest blockbusters where actors Narain, Jayasurya, Indrajith and Kavya Madhavan are the star casts on that film. His role on the malayalam film 'Vaasthavam' fetched him the Kerala State Award for Best Actor for 2006 and he was the first youngest actor to win this award. In 2007 his malayalam film 'Chocolate' directed by Shafi won the hearts of malayalam audiences. Prithviraj's roles on the film 'Thalappavu' directed by Madhupal and 'Thirakkatha' directed by Renjth serves as a pivotal characters for him. Prithviraj first film in tamil industry is through Kana Kandaen in 2005 where he did a negative role and through this he was grabbed in to tamil film industry too and his Tamil film 'Parijatham' directed by Bhagyaraj got him a great appreciation in Kollywood and through this he has got many fans in Tamilnadu too. Prithviraj with his expressive eyes, his way of expressions makes him as a best actor and a darling of Malayalam film industry.


Prithviraj Wiki Facebook Profile
Nick Name: Prithvi, Raju

Prithviraj Date of Birth: October 16, 1983

Prithviraj Place of Birth: Kerala

Prithviraj Address: Tagore Nagar, J-Lane, Vazhuthacaud, Trivandrum

Prithviraj Mother Tongue: Malayalam

Prithviraj Father Name: Sukumaran (actor)

Prithviraj Mother Name: Mallika Sukumaran (actress)

Prithviraj Brother: Indrajith (actor)

Prithviraj Education Schooling: Sainik School, Kerala Bharathiya Vidhya Bhavan Thiruvananthapuram, Kerala

Prithviraj College: Computer Engineering at University of Tasmania Australia.

Prithviraj First Malayalam Film: Nandanam(2002)

Prithviraj Brand Ambassador: LG India for the Kerala Sector.

Languages Known: Malayalam, Hindi, English, Tamil

Prithviraj Facebook Profile: http://www.facebook.com/

Prithviraj Orkut Profile id: http://www.orkut.com/
Films by Prithviraj Sukumaran

2002 - Nandanam, Stop Violence
2003 - Swapnakkoodu, Kadha, Muthuvinte Swapnavum, Vellithira, Chakram
2004 - Akale, Sathyam, Vellinaksthram
2005 - Daivanamathil, Ananthabhadram, Krithyam, Albhuthadweep, Police, Kanaa Kanden(Tamil), Achanurangatha Veedu
2006 - Vargam, Classmates, Vasthavam, Achan Urangatha Veedu, Oruvan, Parijatham(Tamil)
2007 - Chocolate, Avan Chandiyude Makan, Khaki, Kangaroo, Satham Podathey(Tamil), Kannamoochi Yenada(Tamil)
2008 - Thalappavu, Thirakatha, Lollypop, Twenty 20, Abiyum Naanum(Tamil)
2009 - Island Express - Kerala Cafe, Calendar, Puthiya Mukham, Punyamaham
2010 - The Thriller, Thanthonni, Anwar
2011 - Arjunan Sakshi, Urumi, Mallu Singh, Makeup Man, City of God, Manushya Mrugam, Mumbai Police, Manikya Kallu.


Prithviraj - Awards and Achievements

2003 - Film Critics Awards as Best Actor for Meerayude Dukhavum Muthuvinte
Swapnavum and Chakram
2004 - Mathrubhumi – Special Jury Award for Akale
2005 - Thikkurushi Award, Best Actor for Akale
2006 - Mathrubhumi – PSS Most Popular Actor Award sponsored by Federal Bank
2006 - Best Actor - Vaasthavam
2007 - Won Sathyan Memorial Award for Best Actor
2008 - Idea – Mathrubhumi – Amrita Film Award for 'Youth Icon of the Year
2008 - Jai Hind TV Awards – Best Actor for Thalappavu and Thirakkatha
2009 - Asianet Film Award for 'Youth Icon of the Yea
2010 - Jai Hind TV Award for 'Youth Icon of the Year


Prithviraj Wedding News and Latest Updates

The handsome mollywood actor Prithviraj is getting ready for marriage. This news may not please Prithviraj female fans!! Recent sources says that he has fallen in love with B.B.C. World Mumbai news journalist who is a smart malayalee menon girl. He met her a year back during an interview session. Every weekend prithviraj used to fly to mumbai to meet her. Both their parents are happy about the alliance and sources also reveals that private wedding of Prithviraj will be on April 2011 after the release of his malayam movie 'Urumi'. After their marriage, Prithviraj Reception will be at Thiruvananthapuram on his hometown will be celebrated in a grand manner for film industry and his fans. We will update here Prithviraj's Wedding Album soon. So make a bookmark of this page and keep visiting to know about latest news on Prithviraj.

If we have missed out anything, you can add more information in this Prithviraj Sukumaran Wiki. You can Register free with Spiderkerala and leave a response below and can add your information.