Actor Prithviraj's wife Supriya Menon's Profile and Biography

Supriya Menon(supriya Prithviraj)BBC reporter got married to Malayalam movie star prithviraj on 25 April 2011.Supriya Menon is from Palakkad district of kerala, settled in Mumbai. Here is the complete profile and biography of Prithviraj's wife Supriya Menon



Job oriented Digital Marketing Courses in Kerala.
Call +91 8138875600 for details
Actor Prithviraj's wife Supriya Menon's Profile and Biography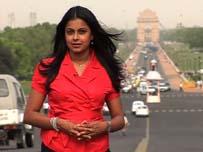 Full Name: Supiya Prithviraj
Born on: 1985
Spouse :Prithvi Raj Sukumaran ( married on April 25 2011)
Father: Vijaykumar Menon
Mother: Padmini Vijaykumar
Education: Post graduate in Journalism

Supriya menon is a BBC reporter from India working for the British channel in the rural India. You won't know Supriya Menon the BBC reporter but you will be knowing Mrs Prithviraj, Supriya Menon Malayalam Movie Heart Throb Prithvi Raj married Supriya Menon on 25 April 2011.

The couple got married in a private function at Brides residence at Palakkad of Kerala, Media was not allowed in for the marriage. The couples wee dating for a year or two, Prithviraj fall for her when she came to make report on Tamil movie Industries during his shoot


Click here to read the romantic love story of Prithvi and Supriya


She is being working for BBC for the last 4 years. Supriya is settled in Mumbai, she is actually from Palakkad district of Kerala.Supriya Menon was born at Palkkad to Padmini and Vijaykumar Menon in 1985. Her parents are from well known Hindu Family in Palakkad District, she belongs to the Thengirishi Kadunathe kandath family.

Mr and Mrs Vijaykumar are settled in Mumbai, Supriya is the lone daughter for the couples, Supriya was born in Kerala but she done her schooling from Mumbai and Later her graduation, Supriya is a graduated in Journalism from reputed University of London .

In 2007 Supriya joined the BBC, after working for reputed news channels in India, in the earlier days of here carrier Supriya was more concentrated on the rural population of the country. Up to now she was more concentrated on Mumbai, currently after her marriage there is news of She shifting to her home land Kerala.