Shanthakumaran Sreesanth Kochi Tuskers Kerala Player Profile

Here is the complete biography and personal profile of Sreesanth, the Kochi Tuskers Player of IPL 2011 from Kerala. Here you will find the complete information about Cricket Career of Shanthakumaran Sreesanth as a bowler.


Sreesanth a young cricket born in Kothamangalam, Kerala on February 6, 1983 who is a talented cricketer who plays domestic cricket for Kerala and now he is the part of IPL4 Kochi Tuskers Kerala. Sreesanth is the first Ranji trophy cricket player in Kerala to play Twenty 20 cricket for India. Initially he was a leg-spinner but later his bowling style turned him to be a fast bowler. We all know him well as a cricketer but the biography of Sreesanth reveals us some facts that apart from cricket, Sreesanth has great interest in dancing and he is a good break dancer too, and he is an aspiring poet and who could equally sing well and he can able to draw portraits. We know you are interested to know more about Kochi Tuskers Kerala Player Sreesanth Career Profile.


Biography of Sreesanth Kochi Tuskars Kerala Player

Sreesanth have a lovely family whose elder brother owns a music company and his sister is a television actress in Kerala and his brother in law is a famous playback singer of South India. In his childhood he was inspired by his brother Dipu Santhan who played cricket at the university level. Apart from cricket he loves to play tennis and has played a number of matches on football, badminton and hockey and cricket while he was studying at School where he was the sports captain of the school and he has won many awards.


Personal Profile of Sreesanth Kochi Tuskers Kerala Player
Full Name of Sreesanth: Shanthakumaran Sreesanth

Nick Name of Sreesanth: Gopu

Birth Date of Sreesanth: Feb 06, 1983

Home town of Sreesanth: Kothamangalam, Kerala

Education of Sreesanth: Choice School Kochi and Florence Public School Bangalore.

Sreesanth Father Name: Shanthakumaran Nair

Sreesanth Mother Name: Savithri Devi

Siblings of Sreesanth: Dipu Santhan, Nivedita

Sreesanth Brother-in-law: Madhu Balakrishna a famous playback singer.

Favorite Singer of Sreesanth: Michael Jackson

Favorite Leader of Sreesanth: Dr. A.P.J.Kalam

Favorite Books of Sreesanth: Art of Fast Bowling, Sunny Days, Why not you.

Major Teams Played by Sreesanth: India, Asia XI, Kerala, Kerala Under-19s, Kings XI Punjab, Kochi Tuskers Kerala.

Batting Style of Sreesanth: Right-hand

Bowling Style of Sreesanth: Right-arm fast-medium
Cricket Career of Sreesanth

Sreesanth was initially a leg spinner cum opening batsman later turned to be a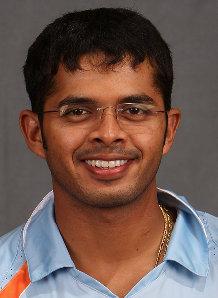 medium-pacer. A great turning point in his life occurred at his age of 18 when he got selected for the MRF Pace Foundation in Chennai. He made his first class debut against Goa in the year 2002. At Ranji Trophy he claimed 22 wickets in seven matches. He made a record when he took hat-trick against Himachal Pradesh in a Ranji trophy game played during November 2004 from then he was called by the nickname 'The Prince of hat-trick' by keralites. He got Man of the Series award in October 2005, when he represented India B in the challenger Trophy. This paves way for him to enter for ODI Series against Sri Lanka. Sreesanth ODI career reveals during the match against England in April 2006 he got 10 wickets at an average of 16.3 which includea a best of 6/55 in the final match at Indore where he got Man of the match award. In 2008 he associated himself with Kings XI Punjab for IPL Match. In 2011 he signed up for Kochi Tuskers.



Cricket Records and Statistics of Sreesanth Kochi Tusker Player

Batting Records of Sreesanth
In Test Matches: 23 Matches, 34 innings, 263 runs, 11.43 average
In First Class Cricket: 64 Matches, 85 Innings, 573 Runs, 9.71 Average
In List A Cricket: 82 Matches, 36 innings, 127 runs, 6.04 average
In Twenty-20 Cricket: 49 matches, 17 innings, 72 runs, 10.28 average

Bowling Records of Sreesanth
In Test Matches: 24 matches, 79 wickets, 35.16 average
In First Class Cricket: 53 matches, 75 wickets, 33.44 average
In List A Cricket: 82 matches, 104 wickets, 35.48 average
In Twenty-20 Cricket: 49 matches, 42 wickets, 32.73 average

Career Statistics of Sreesanth
Test Debut: India v England at Nagpur, 01-05, Mar 2006
ODI Debut: India v Sri Lanka at Nagpur, Oct 25, 2005
Twenty20 Debut: South Africa v India at Johannesburg, Dec 01, 2006