List of Amusement Parks in Kerala

Amusement Parks are some of the most preferred tourist attractions on a vacation as it is exciting for people of all age groups. Kerala has several amusement parks and theme parks to offer. All the parks have been modernised with world class facilities and special discounts. Read more to know the details of all the amusement parks in Kerala.


Amusement parks are favourite destinations for the vacation among people of all age groups. It is the children who enjoy this trip the most but with some exciting rides and facilities being provided at the amusement parks in Kerala, it is a fun place for adults and elderly people too.

The rides in amusement parks are divided into two categories -one being called the dry rides and the other one is known as water rides. The rides which are widely enjoyed by one and all are the water rides. The state of Kerala in India also provides a number of good amusement parks for its visitors. All the parks are modernized using latest technologies and provide all other facilities such as eateries, toilets, changing rooms, prayer halls, conference halls, locker facilities, telephone booths, first aids, area for vehicle parking etc.

The amusement parks which offer water rides, wave pools and small swimming pools are referred to as Water Theme parks. Nowadays the water parks are also very careful in the maintenance of the water at the parks. Frequent checks are made to supervise the purity of the water so that it is not harmful to the visitors especially the young ones. All the amusement parks charge an entry fee before entering the parks for which the rates may vary according to the season and age group of the people. People who come in large groups especially students brought from the school or college can get good discounts. The latest technology of booking the tickets online in advance is also available.


Amusement parks and theme parks in Kerala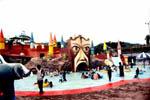 1. Silver Storm amusement park - Silver Storm water theme park is an innovative theme park. It has created rides of unique designs which are the first-of-its-kind in entire South India. The park offers over 40 rides and all the facilities that are needed to make your trip comfortable and enjoyable. Cottages are dormitories are also provided in the park premises. Children also have many attractions in this park such as fish ponds, Viking Ship, carnival games and the children's village.

Read more about Silver Storm Water Theme Amusement Park Thrissur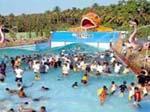 2. Dream world water park - Dream World Water Park is located in Chalakudy of Thrissur district in Kerala. It is a modern sophisticated water park with world-class facilities and filtration methods to purify the water. The first Rain Dance attraction was introduced by Dream World park. The park has modern features and unique designs to give the ultimate comfort to its visitors.

Read more about Dream World Water Park Athirappilly




3. Fantasy Amusement Park - Fantasy Amusement Park is the first amusement park in the state of Kerala and is known for its state of the art online testing and monitoring of water quality to keep it 100% pure always. One of the unique features of Fantasy Amusement Park is its digital Planetarium which is a mesmerising section displaying images of the stars, sun, moon and other celestial objects.

Read more about Fantasy Amusement Park Palakkad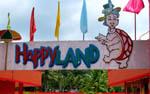 4. Happy Land Amusement Park - Happy Land is south India's first water theme park and is located in Vembayam of Thiruvananthapuram district. Lying amidst lush greenery and natural surroundings, the park is an eco-friendly theme park offering thrilling rides and world-class facilities to its visitors. The park consists of the longest uphill water ride in Kerala and the largest wave pool in Kerala.

Read more about Happy Land Amusement Park Thiruvananthapuram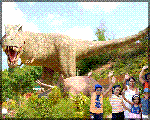 5. Sadhoo Merry kingdom - Sadhoo Merry Kingdom Amusement park is the most modern man-made sophisticated water theme park in Kerala and is located on Chala hills of Kannur district. The park has modernised techniques of filtering the water to make sure it is always 100% pure.

Read more about Sadhoo Merry Kingdom Amusement Park Kannur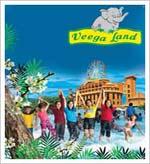 6. Veegaland - Veegaland Amusement Park is a very popular amusement park of Kerala located in Pallikara in Ernakulam district of Kerala. The park has won many awards for its perfect safety measures and environment-friendly ways. Veegaland has numerous rides to offer both dry as well as water rides.

Read more about Veegaland Amusement Park Ernakulam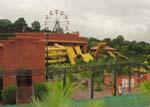 7. Vismaya water theme park - Vismaya water theme park is one of the best amusement parks in India and is located near Taliparamba in Kannur district of Kerala. Vismaya is managed by Malabar Tourism Development Co-operative Limited (MTDC). The park has water and adventurous rides as well as some informative activities for the young ones. The highlight of Vismaya park is the rainwater harvesting project undertaken by the park. This feature makes it completely different from all the other theme parks in India. It is one of the environmentally friendly water theme parks in the world.

Read more about Vismaya Water Theme Park Kannur