Kerala SET Exam 2012 Hall Ticket available at LBS Website

Kerala SET exam 2012 hall tickets can be obtained from http://lbskerala.com/, official website. The hall tickets are issued for the Kerala SET exam 2011 being conducted on 30th September 2012. Get details to get the hall tickets.


The LBS centre Kerala which are in charge of conducting the Kerala SET exam has made provision for candidates who are appearing for the kerala SET exam on 30th September 2013. The 2012 Kerala SET exam is being conducted in various centres across the state. Last time around 35,000 candidates have appeared for the exam as the same is expected this year too.

The LBS centre Kerala conducts the SET exam annually which is a screening test to intake suitable candidates to teach in various higher secondary schools in Kerala. This candidates who appear for this exam has to attend 2 Papers ie. One General Paper and another is Optional Paper. Candidates can choose any optional paper according to the subject of their preference. As the SET 2012 exam is being conducted on 30th September 2013, later the answer key of the SET exam 2011 will be published in the official website on 3rd October 2012. The results will be published on 5th November 2012.


How to get the SET Exam Hall Ticket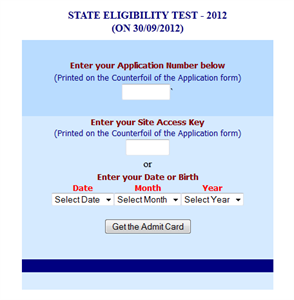 Those candidates who had applied for the 2012 SET exam can get the hall tickets from the official website of LBS Kerala.

• Just visit http://lbskerala.com/ and click the State Eligibility Test -SET-2012 link. You will be directed to a page with details about the SET exam.

• Click on the link – Get Hall Ticket and you will be directed to the link http://lbscentre.net/ht12/Set.hallticket.htm.