Bhoomiyude Avakashikal malayalam movie - T V Chandran's next venture

Bhoomiyude Avakashikal malayalam movie will be directed by T V Chandran. The movie is directed by TV Chandran and stars Kailash and Meghna Raj. The film is a socially relevent one and is dedicated to Vaikom Muhammad Basheer and Baburaj.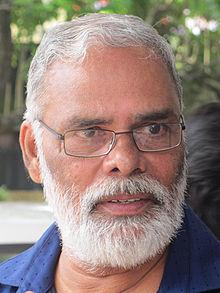 The eminent Malayalam filmmaker TV Chandran is coming with a new project after a while. The award winning director has launched his latest movie titled as Bhoomiyude Avakashikal. TV Chandran, renowned for his acclaimed films such as Ponthanmada, Danny and Kadhavasheshan, has won the national award a few times.

His previous movie was an experimental project named Sankaranum Mohanum starring Jayasurya. The film wasn't a great success either commercially or critically.

Though the movie Bhoomiyude Avakashikal shares its title with the famous novel of Beypur Sultan Vaikom Muhammad Basheer, the story has no resemblance with the novel. Chandran has dedicated the movie to Basheer and ace music composer Baburaj as well.

Like the earlier ones of TV Chandran, this movie also comes with a socially relevent plot. The story developes in the backdrop of Ahammadabad riots. It revolves around an average man named Ramachandran who leads a quiet life in a town. Incidentaly, he happens to save a young Muslim woman from a violent conflict and that overturns his life. Kailesh is playing the male lead of the movie where Meghna Raj is the heroine.

Arun, Sreenivasan, EA Rajendran, Mamukkoya, Sarayu and Urmila Unni play other important roles. Music director and singer Shahabas Aman is also playing a noted role in the film. Though he has appeared in cameo roles in various movies, this will be his first major role in a movie.

The movie is scripted by the director himself. Cinematography is handled by Ramachandra Babu. Paris Chandran is the music director. Bhoomiyude Avakashikal is produced by Anand Kumar under the banner of Yes Cinema. The shooting is under progress.