Raktha Rakshas malayalam movie 3D - Psychic horror thriller

Raktha Rakshas malayalam movie 3D is directed by R factors. Ananya and Sunny wayne have come in lead role in this horror genre movie. Raktha Rakshas has been making in 3D format and produced under the banner 3 Dreams international. Read the story here.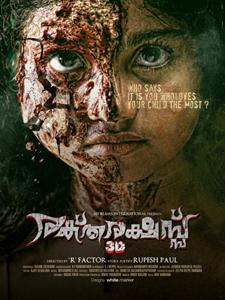 Malayalam film industry has been passing through the alteration phase by implementing more technology in film making. Forth coming movies like Dracula 2012, Raktha Rakshas etc are the example of this change. The first ever 3D movie in India was in malayalam, My Dear Kuttichathan. However, after the success of it malayalam movie industry feel reluctant to use this technology in film making. Upcoming malayalam movie Raktha Rakshas has used 3D technology in making of it. A group of youngsters are behind the making of this movie. Director Rupesh Paul has penned the story and lyrics of this Psychic horror thriller while Muhammad Ali has tuned the music for the movie Raktharakshas. Jeemon Varghese Pulleli has handled the direction of 3D of the movie while cinematography has been handled by K. P. Nambiathiri. K. P. Nambiathiri was also the director of photography for first ever 3 D movie My Dear Kuttichathan in Malayalam. Raktha Rakshas has been made in 3D format which will be produced under the banner 3 Dreams international.

The title character of the movie Raktharakshas have been performed by Ananya and Sunny Wayne. Sunny Wayne is an emerging actor in Malayalam film industry. He has debuted through the movie Second show along with Dulquer Salman. He has enthralled the mind of viewers through the successful performance as the character Kurudi in Second show. Ananya has already been recognized as leading actress by doing notable characters in malayalam and tamil film industry. Veteran actor Madhu has been casted in an unique role of the movie Raktharakshas.


Raktharakshas movie cast
Story, Poetry: Rupesh Paul
Screenplay: Sherin Catherine
Cinematography: K P Nambiathiri
Co-Producer- C J Neppo
Project Designer: Abhimanyu Krishna
3D Director: Jeemon Varghese Pulleli
Editor: Ajay Devaloka
Music: Muhammed Ali
Graphics:Rantheesh Krishna
Art:Ramesh Kadambazhipuram
Fashion Designer: Deepa Deepu Thankan
Costumes:Rasaq Tirur
Production Controller: Vinod Paravoor
Stills: Anil Vandana
Makeup:Binoy Kollam
Design:White marker
Raktharakshas movie story

The story of the movie is not at all saying about spirit and ghost, any how deals with psychic horror thriller. Raktharakshas has got a nice caption "Who Says it is you who loves your child the most?" which reflects the entire theme of the movie. The film portrays the life of a well known writer and his family, wife and child. They have planned to go to an island bungalow to spend vacation. But this journey changed the fortune of this family. They have influenced by a supernatural power existing in bungalow. This power has changed the character of every one while they even tried to kill themselves. The movie portrays the incidents happening in their life.