My Fan Ramu malayalam movie - Sixer from Kerala strikers

My Fan Ramu malayalam movie preview is given here. It is the directorial venture of popular singer Nikhil. Rajeev Pillai and Saiju Kurup are essaying lead roles in the upcoming movie My fan Ramu along with members of Kerala strikers of CCL Legue. The movie will be produced by Sasi Ayyanchira under the banner Uthratathi films private limited. Read movie preview here.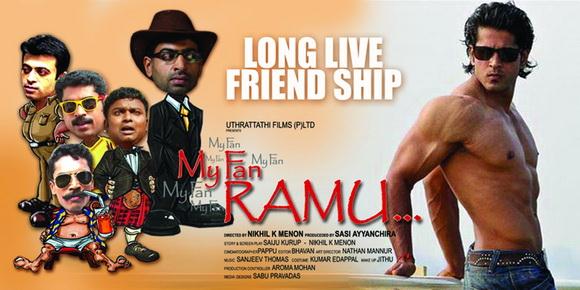 Who is important in movies? Is it director or actor? This is a common debate topic. Whatever it be, most of you agreed direction is a difficult task and need high experience in making. But singer Nikil has proved this theory to be false who has stepped into direction without prior experience in movie making. His directorial debut will be My Fan Ramu. Notable actor Saiju Kurup has penned the story and script. Normally movie makers are feeling sheer difficult in finding producer, but in this case difficulty arised in finding the director which at last reached singer Nikhil who was ready to take up the challenge.

My Fan Ramu featurs Rajeev Pillai and Siaju Kurup in lead roles. Saiju Kurup who used to write stories has been in charge to develop the script. Appreciation that he got from those connected with the movie industry gave him boost which lead to the script of My Fan Ramu. He discussed the story with team members of Kerala strikers who were interested to see it on big screen. Riyaz Khan, Biju Kuttan, Suraj Venjaramoodu, Sphadikam George, Vivek Gopan, Bineesh Kodiyeri, Kalabhavan Prajod and Ginnes Pakru are donning other major roles. Cinematography of the movie will be handled by Pappu while Bhavan will be in charge of editing. Sanjeev Thomas will compose the musical score of the movie My Fan Ramu. The movie will be produced by Sasi Ayyanchira under the banner Uthratathi films private limited.

Rajeev Pillai is an emerging actor in malayalam who rose to popularity after his performance in the CCL league. He has done some negative roles in movies like Anwar, Thejabhai and Family etc. Through the movie My Fan Ramu Rajeev will do the role of hero along with Saiju Kurup. The female lead is not yet decided and movie is under post production since most of the team are busy with their previous flicks. The pooja of the movie was conducted in hotel Sarovaram Eranakulam which was attended by many representing the malayalam movie industry.


My Fan Ramu malayalam movie crew
Banner: Uthratathi films
Producer: Sasi Ayyanchira
Director : Nikhil K Menon
Script: Saiju Kurup
Music: Sanjeev Thomas
Cinematography: Pappu
Editing: Bhavan

My Fan Ramu portrays the relationship between a superstar and his hardcore fan. Most of the people has hailing a good circle fans within little span of time. Here also the superstar has got such a circle. Here Rajeev Pillai has done the role of Superstar while Saiju Kurup comes up with his fan.