Sreenivasan's house to be Kerala's first Eco friendly house

Actor Sreenivasan's house at Kandanadu near Tripunithura at Ernakulum would be Kerala's first eco friendly house which acquired platinum grade recognition from Indian Green Council. Constructed at a cost of 2 crores, the house has followed all the criteria to get the IGBC Green Homes platinum rating. Read more to know about Sreenivasan's new residence situated at Kandanadu.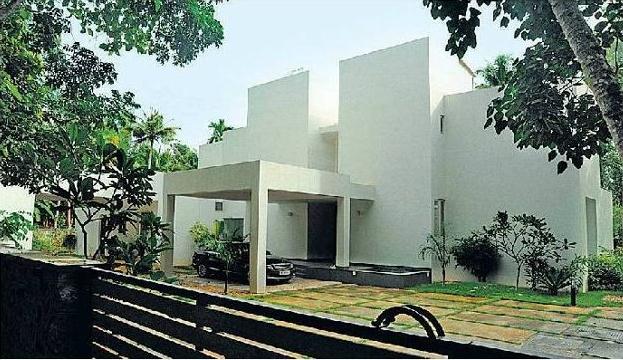 Environment friendly constructions or Green buildings are conceptual based structures designed keeping a strong bond between man and nature. The green buildings which are designed for efficient use of energy and water will eventually reduce waste and pollution leading to reduction of living cost.

Occupants of these sustainably designed houses find more satisfaction while compared to other buildings. Keeping in mind the effectiveness of green homes, malayalam actor Sreenivasan toned his mansion to be more eco friendly. His new residence situated at Kandanadu near Tripunithara at Ernakulum would be the first house in Kerala to get the eco friendly recognition which won the platinum grade certification from the Indian green council (IGBC). Embedded with a handful of green features makes the soul of the house.



Solar PV panels for electricity, solar water heaters and VRV air conditioners would be the best in this home. Arrangements to reduce the entrance of heat are made while lighting controlled by sensors adds more colours to the house. This house of Sreenivasan was build for 2 crores budget which is of 6,364 square feet extended in a 75 cents plot. Facilities for rain water harvesting, water recycling plant and lawn with horticulture crops makes the house more attractive.

For reducing the water consumption native and drought tolerant species are being used in landscape. Rapidly renewable equipments are used in flooring which is idle for an eco friendly house. A share of the land was devoted for vegetation and lawns which was required to get the green certification. The Lawn made up of Mexican grass does not require much water.

Green Homes platinum rating is given to those buildings which could acquire 60 – 80 points according to the criteria put forward by the Indian Green Building Council (IGBC). The four-bedroom residence situated at Kandanad, near Tripunithara scored 64 points after meeting all requirements put forward by the IGBC. Sreenivasan's house would be the first in the state to be awarded the green certification. The full work of the house was completed with the presence of Mahesh, the architect who hails from Thiruvanathapuram.

A green home can be set up by spending a little more to the total project cost. The level of appreciation depends upon various criteria which include the site selection, planning, design method, water and energy competence, resources, indoor environmental excellence, and novelty.

Sreenivasan during his visit to Dubai few years back came to know about the green homes which gave him innovative ideas and thought of integrating the concept of an eco-friendly home which came to reality.