Instruction for one time registration of Kerala PSC

Read this article to get more information about completion of one time registration in Kerala PSC. Kerala PSC has changed their registration process from January 1 2012. Candidate who has looking to apply for PSC test should complete one time registration online.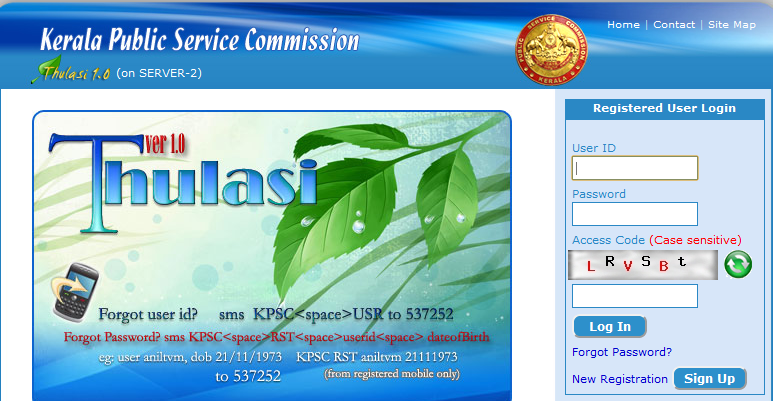 Kerala Public service commission (KPSC) is the body created by the constitution of India. PSC has declared the notification for all the available post in government category and they made test for the selection of employer. Candidates should appear for PSC test to get a job through Kerala Public service commission. KPSC have often announce notification of available post and candidates can choose either post for apply. Candidate should register in Kerala PSC before applying for a test. From January 1 2012, registration procedure of Kerala PSC has changed to one time registration.


What is one time registration?

One time registration is a new method of registering in Kerala PSC. This method is formed by Kerala public service commission from January 1 2012. Every candidate should complete one time registration through the link provided in Kerala PSC org. Candidates have to visit www.keralapsc.org to complete one time registration. There is a link available for one time registration. Click on the link and follow the necessary steps described below.


One time registration for new applicants
For the first time users click on the Sign up or new registration link available on the page.

A new form will displayed in the window for the registration.

In beginning candidates have to upload their photo. Photo should be in the size of 150px X 200px. The uploaded photo should not exceed 30 KB limit.

In next step candidates have to upload their signature. The scanned photo of signature should have the size 150px X 100px. The photo should upload on the box for adding the signature. This photo also should not exceed limit of 30 KB.

In next step candidates have to fill his or her personal information such as name and date of birth. These should add two times and accept only both are matched.

After that fill the details like gender, religion, cast, parent's name, husband/wife name etc.

Candidates have to fill the identification details such as nationality, state, district, taluk, village, panjayath/municipality/corporation etc. After this candidates should click on the next button after clear verification of above details.

Then, candidates should fill their permanent and temporary address. Also email address and mobile number can add. Those who have provided mobile phone number only get the SMS updates.

In the next screen candidate should fill desired user id and password. This user id should keep in memory for further exam application and to get the results.

After fulfill the above details read the declaration part and put a tick on prescribed box then click on submit button to complete the registration. Candidates then directed to login page again.
User login procedure for existing users in Kerala PSC website

Existing users can login for the Kerala PSC page or their profile by using the created user id and password. A candidate should register only once through online. Candidate can update information by login to their own profile.


How to add educational qualification in Kerala PSC profile

Candidate can see three different coloured links in their home page. In this they compulsorily fill the details in the red colour link. In blue links candidates can add details if they are available. In green link candidates should add the details to avail benefits. For adding educational qualification candidates should click on red link in home page and add the details by clicking on add tab. Candidates have to fill their educational qualification in the mode of lower level to higher level. After add the details they have to click on save. This process should repeat every time educational qualification updated.