Chemmanur International Jewellers Kannur Inauguration by Diego Maradona Live on 24th October

Chemmanur International Jewellers Kannur inauguration by Diego Maradona live webcasting online will be available at www.chemmanurinternational.com and www.reporteronlive.com/live on 24th October 2012. As it is Diego Mardona's first visit to Kerala, it would be unique moments for football fans get the first glimpse of the legendary footballer who has large followers even at southern end of India. Read more to know how to watch Chemmanur International Jewellers Kannur inauguration by Diego Maradona live.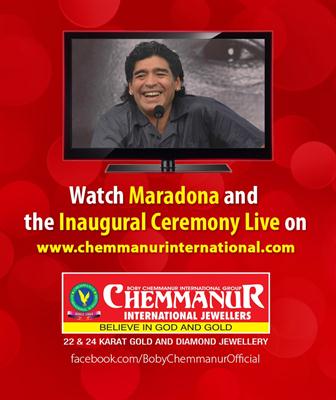 If you are a football fan, answer to this question? Which footballer would you want to meet in personal? Is it Pale, Messi or the legendary Diego Mardona? If your answer is Diego Maradona, the legend is up in your town available for few hours to enthrall you and would also play football before the mass on 24th October 2012. As the excitement is on the top, all roads which lead to Kannur will welcome the Argentine legend Diego Maradona.

The king of football and know as 'Soccer God' Diego Maradona would touch his feet on God's own country Kerala for the first time getting an invitation from his industrialist friend Bobby Chemmanur. Mardona who arrives right from Dubai would attend few functions organized by Bobby Chemmanur Group. Starting from the inauguration of Chemmanur International Jewellers Kannur showroom, the legend will also flag off the helicopter services of Chemmanur Airlines. Football fans would get an exclusive opportunity to watch Diego Maradona dribble football before their eyes.

On this occasion, Maradona being a birthday boy who is to celebrate his 52nd birthday on 30th October will be a part of the first phase of celebrations organized by Chemmanur cutting a special 25-kg football-shaped cake. He will be seen dressed in traditional dhoti and shirt during the function. After making his presence among the mass, Mardona will return to Dubai. Maradona would land at Nedumbassery airport at Kochi on 23rd October and reach Kannur on the same day.


Chemmanur International Jewellers Inauguration Live


Tight security is being arranged as a part of the arrival of Diego Maradona. Around 3,000 police personnel will guard the entire city taking much care to welcome the legend. Maradona previously visited India in 2008 for a function held at Kolkata.

During his short visit to Kerala Maradona will interact with players of a student's club and will show experiments with the ball too. He will also be a part of some social activities organized by the company distributing sewing machines and kits to deserved people.

Chemmanur International Jewellers are all set to make the occasion as one of the most glittering function ever happened in Kerala. All arrangements are going in full swing to welcome the chief guest.

Special arrangements are made for national media's to capture the glimpses of Maradona's magical moments. Other than live telecast in channels, there will be live webcasting online at www.chemmanurinternational.com and www.reporteronlive.com/live. So get ready for the countdown and gear up to welcome Diego Maradona, the Soccer God'.