Thuppakki movie review – FDFS reports from theatres in Kerala

Read Thuppakki, tamil movie review and FDFS reports from theatres in Kerala. Much anticipated Vijay's Thuppakki which set for a world wide release, making an entry into more than 1500 theatres including more than 120 theatres in Kerala. Vijay who is having millions of fans around the globe also have a long line of admirers in Kerala too. After making his campaign with Nanban early in 2012, the actor is back in action with Thuppakki to enthrall the viewers.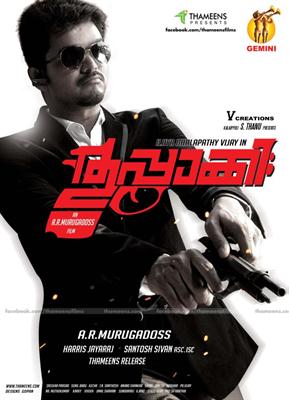 Adding more colours to this Diwali, few big releases had been made today with much expectations of providing a delicious treat for movie fans. Movie freaks in Kerala had wholeheartedly welcomed those movies which fused flesh and blood together embedded with spirit making it worth for eyes. Even though Sharukh Khan starring 'Jab Tak Hai Jhaan' had a number of screening today, it would be Vijay's Thuppakki which made the real raid in Kerala releasing in more than 120 theatres.

As Vijay is the most popular tamil actor in Kerala, distributors and theatre owners is much aware about the impact he can bring among his fans which made them to clear all other regional movies giving space only for the screening of Thuppakki. Leading producer Thameens has cashed in double amount to bag the distribution rights in Kerala making sure the movie will do a better outing in the state. Like his previous movies, Vijay fans were riding on the top making a festive mood in theatres which is running 'Thuppakki' in Kerala. Each theatre was decorated with huge flex boards, hoardings and posters of the actor while the fans gave a grand reception for the opening show.

It was truly disappointed to see a large number of movie enthusiasts standing outside the theatre waiting for their turn with the next show. Truly had wondered seeing a huge mass of people lining up from early morning to fetch an entry ticket. I was too lucky as a friend of mine had reserved couple of tickets few days ago. After having an outing with Vijay for Veelayudham and Nanban, the expectations were too high after reading the plot and watching the video songs. The excitement reaches to the peak when thinking about A R Murugadoss , the man behind the show who had rendered hits like Gajani and 7aum Arivu.

As the theatre strike had ended a couple of days ago, it was great to see movie fans flocking into the theatre for a roller coaster ride. Being a Keralaite, I am more excited to enjoy the performance of Jayaram and the Arri Alexa camera work handled by Santhosh Sivan. The theatre got filled in quick time as movie enthusiasts made their way in so fast to get them locked in their respective seat. As it would take a little more time for the show, it's time to give a sneak preview about the movie.




Thuppakki Movie Preview

Thuppakki, written and directed by A R Murugadoss is an action thriller which stars Vijay and Kajal Agarwal in lead roles. The movie, produced by Kalipuli S Thanu under V. Creations had created a huge buzz early from July 2010 following a discussion between Murugadoss and Vijay. Vidyut Jamwal, Sathyan, Jayaram, Akshara Gowda and Gautham Kurup will add more colours to the movie entitled with supportive roles.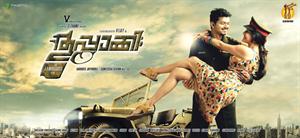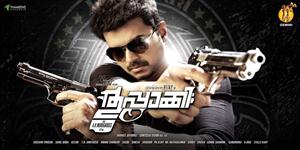 The highlight of the movie will be the exotic locations, songs, romantic scenes and of course the actions sequences. Riding one the bones of Harris Jayaraj, the movie features a handful of songs which is being cinematographed by Santhosh Sivan using the Arri Alexa camera. Wrapped up in 3 schedules, Thuppakki was shot at various locations in Bangkok, Thailand, Switzerland, Mumbai and Pune.

The movie revolves around the story of Jagadeesh( Vijay), a youngster who belongs to a tamil family based up in Mumbai. During his merry life, Jagadish has to pass through some unexpected problems and how he tries to find answer to it remains the rest of the story. While Vijay dons the character role as an encounter specialist, Nisha(Kajal Agarwal) is plotted as his lover, a women with iron heart. Vidyut Jamwal who had made his presence in Billa II, is donning a negative role in Thuppakki. The breath taking actions sequences between Vidyut Jamwal and Vijay will surely make viewers rise up and later plunk to their seats.

So lights off… No phone calls, no messages only a couple of hours.. Let me engage with Vijay and watch him perform before my eye balls.


Thuppakki Movie Review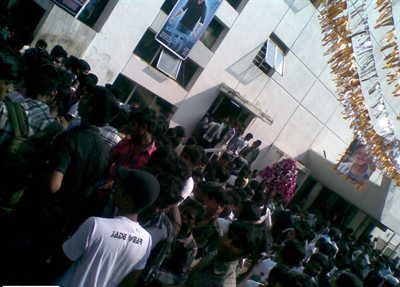 It was truly a 2.45 hours of journey which depicted the life of young Jagadesh (Vijay) who was ready to sacrifice himself to bring an end to the inhuman practices. Thuppakki will be an unforgettable movie as many of us are still not ready to accept the terror attack which rocked Mumbai in 2008. Riding on the shoulders of perfect success over 'Nanban', Vijay is back in track with Thuppaakki, a movie truly dedicated to the Indian army. Vijay's new avatar as encounter specialist Jagadeesh would add yet another feather in his cap of success giving the best to the film enthusiasts who had chucked money to watch his performance on big screen. Jagadeesh is characterized as an intelligent officer who tries to confront the dilemma with conviction and courage. As earlier seen in the trailer, the movie is locked with dialogues having variant presentation piercing into one's heart like a dart.

The romance between Jagadeesh (Vijay) and stunning beauty Nisha (Kajal Aggarwal) add more colours to the progress of the movie. Kajal keeps her performance much impressive and keeps much hope on her acting career. It is much sure that this actress will make her way in to bollywood very soon like 'Asin' rising to fame through Gajani. Actor Sathyan had made his role more convincing with his conversations with the leading actors. Even though 'Thuppakki' runs on the shoulders of Vijay, the viewers will have much to remember about Vidyut Jamwal who was stood as a perfect foe to Vijay. Captaining a global network, Vidyut tried all ways to bring down Jagadeesh.

The whole crew starting from the director to the light boys should get total appreciation for getting evolved in a project which truly had flesh and blood. Cinematographer Santhosh Sivan with all his experience had zoomed his camera capturing the beauty of Mumbai and rest of the locations. The unmatched visualization will truly bring your eye balls out while Harris Jayaraj had made another outing with enchanting songs which fills the hearts. Sreekumar Prasad too had spent hours editing the movie without losing the essence of its life.

Director Murugados has one again proved his brilliance behind the camera who performed the script of the movie. His overflowing experience and bringing the best team under one umbrella had paid the price. Truly dedicated to the armed forces in India, the movie can be taken as a choice for this Diwali. So get ready to chill yourself and get entertained.

SpiderKerala Rating:7/10
Verdict: Mass Entertainer