Recipe of Cabbage Thoran

Cabbage Thoran is a Keralite dish, which is very healthy and can be made easily at home. It is better to use this dish along with Rice. Those who prefer dry dish along with rotis or chapatis can also go for this one. Try out this dish and post your valuable comments below.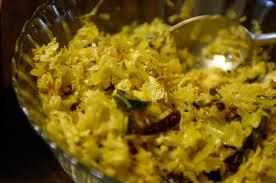 About Cabbage Thoran

Cabbage thoran is a very common dish made in all parts of Kerala, but the name of the dish differs in each district. Also there might be slight variations in the method of preparation. Here I have mentioned the typical recipe of preparing cabbage thoran the South Keralite way. This dish is an unavoidable dish during Onam feast. Hope you enjoy preparing it.


Medicinal values of Cabbage

The leafy vegetable Cabbage has lot of medicinal values. It is rich in Vitamin C and has lot of fiber content in it. It is also a good source of iodine. Half cooked or raw cabbage has more medicinal value than well cooked ones. Studies have found out that certain type cabbage can prevent colon cancer, bladder cancer, cancer in intestine and so on.

Now lets move on to the recipe.


Ingredients
Cabbage : 1No (Small one)


Garlic : 3 Pods


Green Chili : 3 Nos


Shallot (Small Onion) : 2 Nos


Turmeric Powder : 1/4 Tsp


Cumin Powder : ¼ Tsp


Salt : To Taste


Grated coconut : ¼ Cup


Oil : 2 Tblsp


Mustard Seeds : 1/2Tsp


Dried Red Chilly : 2 Nos


Curry Leaves : 2 Sprigs
Method of Preparation
Wash the cabbage thoroughly and grate it finely.


Take a vessel, preferably non-stick and keep it on the lighted stove.


Pour oil into the pan and splutter mustard seeds once the oil boils.


Add dried red chili and curry leaves to it.


Meanwhile clean and chop the garlic.


Make it into a paste by smashing it and by adding little cumin powder to it


Add the mixture to the pan.


Stir well and once the garlic mixture turns into golden color, add the grated cabbage.


Close the lid and allow it to cook.


Meanwhile make a paste out of grated coconut, green chilies, turmeric powder, 2-3 curry leaves and shallot.


Once the cabbage is half cooked, add the above mixture and salt to taste.


Sprinkle few drops of water as well.


Stir well again and close the lid, cook on low flame.


After few minutes, once the cabbage is cooked, off the flame and serve hot.


Curry leaves and dried red chilly can be used to garnish the dish.
Conclusion

Like any other vegetable, too much intake of Cabbage is also not advisable. But having it once in a while is highly recommended.