Soorya festival 2013 starts from April 1

37th Soorya festival will start from April 1 2013. From 2013 onwards Surya festival will be celebrating in 12 months as 12 festivals. Malayalam Panorama Chithramela is the first programme in 2013 Soorya festival.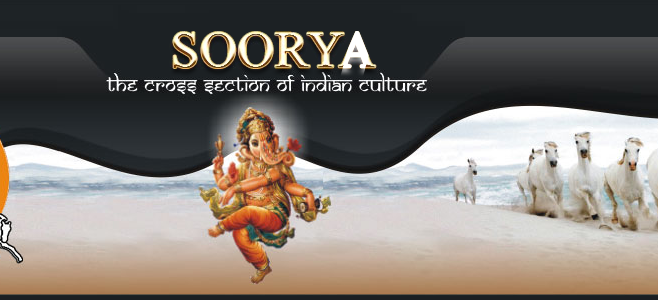 Soorya, the largest art society in the world celebrates Soorya festival every year in various parts of world. The longest arts festival of the world "Surya Festival" will be starting from 1st April 2013. This year, this art festival comes with several changes. This is mainly in the conduction of the event. Normally Surya festival was celebrated continuously for 4 months. But from 2013 onwards it was announced that Soorya festival will be executed each month as 12 festivals.

The biggest art society in the world has 36 chapters across the world including Singapore (Singapore), Kuala Lumpur, Ipoh, Seramban (Malaysia), Auckland (Newzealand) Melbourne, Sydney, Brisbane, Adelaide, Perth (Australia) , London, Manchester (UK), Zurich (Switzerland), Vienna (Austria), Rome (Italy), Koln (Germany), Dublin (Ireland), Bahrain (Bahrain), Kuwait (Kuwait), Abu Dhabi (UAE), Dubai (UAE), Muscat (Oman), Doha (Qatar), Damam, Riyadh, Jeddah (Saudi Arabia), Moscow (Russia), Johannesburg, East London, Durban (South Africa) Botswana (Africa) Mozambique and (Africa) all over USA.

It is known that from 2013 Soorya festival will be celebrated for the first 10 days of each month except September. In September it is planning to hold from 21 to 30.

Apart from these festivals Soorya will organize Malayalam dramas and two speeches each month. Soorya arts society has planned to conduct dance performances, theatre and drama festivals, cine and video shows, elocution and literary competitions, felicitation functions, art displays, and Jalsagar Hindustani music show as part of Soorya festival in each year.

The first program in 37th Soorya festival will be Malayalam Panorama Chithramela". The film festival will be presenting from April 1 onwards at 7 pm on Theerthapathamandapam. Annayum Rasoolum, Usthad Hotel, Lisammayude Veedu, Nee Ko Nja Cha, Bavootiyude Namathil, Ayalum Njanum Thammil, Cinema Company, Second show, Chattakari, Matinee are the movies scheduled to be present in Soorya festival 2013.