Koodalmanikyam temple festival 2013

Koodalmanikyam temple festival 2013 details are given here. Koodalmanikyam temple is one of the famous temples Kerala. It is most important temple in Kerala which is dedicated to Lord ' Bharatha'. This temple is a part of Naalambala darshanam. Koodalmanikyam temple festival 2013 starts from 23rd April with flag hoisting. Read the below article to know more about Koodalmanikyam temple and its 11 day long festival programs..


Koodalmanikyam came from the Sanskrit word Sangameswara. Koodalmanikyam temple is situated at Irinjalakuda in Thrissur district. The temple is just 150 meters away from the Irinjalakuda municipal bus stand. As you approach the temple you can see the eastern gate way known as Gopuram. This is a marvelous structure with Kerala style architecture. The temple is situated in 10 acre- plot with well walled on four sides and with attractive gateways at east, west and south sides. The sanctum sanctorum of this temple is round in shape and is covered with copper plates. A six feet Thaazhikakudam at the pinnacle adds the beauty of koodalmanikyam temple very much. There is a well-known koothambalam, at the south side, where various art forms like koothu and koodiyattam is conducted. The importance of this temple is that there is only one deity is workshipped here, and even Ganapathy, which is found in almost all temples is absent here.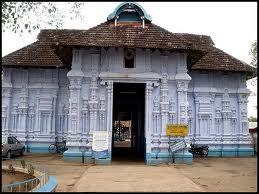 Routine Poojas of Koodalmanikyam temple

Koodalmanikyam temple has 3 poojas and no shiveli. This is quite different from other temples , where there will be 5 poojas and a shiveli. Also there is no deeparadhana in this temple. The flowers used for poojas are lotus, tulasi and chethi and no other flowers are allowed here. It is strongly believed that before starting an important function, if you submit a lotus garland to the lord, you will be succeeded in it and generally a lotus garland is about 12 feet long with 101 full lotus flowers.


Koodalmanikyam Utsavam 2013

This years Ultsavam started with Kodiyettam on April 23, 2013. From now on, Irinjalakuda town will be in celebrations for the next 10 days. Every day there will ezhunnullippu with 15 elephants from 8:30 am to 12 noon. Other programs are listed below.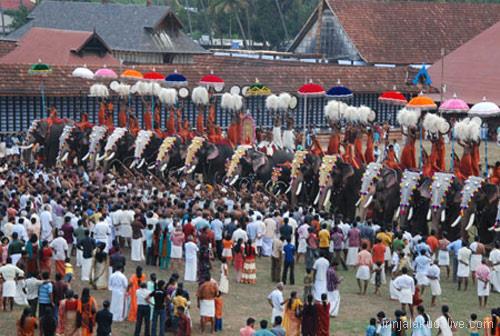 Onnaam Utsavam (first day) 24/4/203
The first day is considered as Kodippurath vilak or inauguration. The programs starts at 4:30 pm in the evening. After the inaugural functions there will be a dance program from Krishnaprabha, cine artist followed by Kerala art form Kathakali storying Ramanucharitham and Kiratham.

Randaam Utsavam(second day) 25/4/2013
The programs of second day starts with Violin kacheri by Gopika Balagopal, after that Thiruvathirakali, followed by dance by Sivarenjini dance and music academy. After that there will be musical instrument playing, hindusthani kacheri. At 9:30 Vilak will be conducted and the temple will glow with full of oil lamps. And after that Kathaali at 11pm.

Munnaam utsavam (third day) 26/4/2013
Devotional Ganamela at 2 pm, Dance and music at 2.45 pm, Thiruvathirakali at 3.30 pm, Bharathanatyam at 4.15 pm, Music Kacheri at 5 pm, Kuchipudi at 7.30 pm, Bharathanatyam at 9 pm, Vilak at 9.30 pm, Kathakali at 12 am.

Naalaam utsavam (fourth day) 27/4/2013
Violin Kacheri at 2:15 pm, Dance at 3.30 pm and 4.15 pm, Veena kacheri at 5 pm, Bharathanatyam at 7 pm, Mohiniyattam at 8.30 pm, Vilak at 9.30 pm, Kathakali at 12 am.

Anjaam utsavam (fifth day) 28/4/2013
Ottan Thullal at 2 pm, Thiruvathirakali at 3 pm, Devotional ganamela at 3.45 pm, Mohiniyattam at 4.45pm, Music kacheri at 6pm, Bharathanatyam at 8.30pm, Vilak at 9.30 pm and kathakali at 12 am.

Aaraam utsavam (sixth day) 29/4/2013
Thiruvathirakali at 2.15 pm, speech at 4.15 pm by prof. T.K Parasuraman, Ottan thullal at 5 pm, Mohiniyattam at 6.15 pm, Double thayambaka at 8.30pm , Vilak at 9.30pm and Kathakali at 12 am.

Ezhaam Utsavam(seventh day) 30/4/2013
Thiruvathirakali at 2.15pm, Mohiniyattam at 3 pm, Flute kacheri at 4 pm, musical instruments playing at 5 pm, Dance by Kavyamadhavan, cine artist, Vilak at 9.30 pm and Kathakali at 12 am.

ettaam utsavam (eighth day) 1/5/2013
Musical singing from 2 pm to 3.30 pm, Dance programs from 3.30pm to 6 pm, Kathak at 8.30pm, Vilak at 9.30 pm, and Kathakali at 12 am.

Pallivetta 2/5/2013
Pallivetta is conducted on 10th day after kodiyettu. AS usual, different programs will conducted from 2 pm itself. Ezhunnullippu for Pallivetta begins at 8.30 pm and Pallivetta will be done at 9.30 pm. There will be fire works at 11.30 pm and after that Pandimelam will be played and another ezhunnullippu at 12.45 am.

Aarattu 3/5/2013
Ezhunnullippu for Aarattu will start at 8 am in the morning and This is the only one time in a year , the Idol of the deity comes out of the sanctum sanatorium. Aarattu will be done at Rappal aarattukadavu and returns to the temple after that. Then the 11 day festival ends with lowering of the flag.


Watch live telecast of Koodalmanikyam temple festival 2013

Koodalmanikyam temple festival is known as last festival of festival season in Kerala. This is a great festival so that everyone should attend this at-least one day among the 11 days of festival. For those who can't come and enjoy, there will be live telecast of the festival through local channels like Asianet cable vision and City cable vision. You can also the festival via online through http://www.koodalmanikyam.com/live.html