BSNL recruitment 2013 - 152 job vacancies in Kerala

Read about BSNL recruitment 2013 - 152 job vacancies in Kerala. BSNL which is the largest public sector telecommunication service in India. This year BSNL announced 152 Technical Assistant posts in Kerala telecom circle. This will be a great opportunity to get a job in a public sector environment with attractive salary range. The selection examination will be on the date 30th of June 2013.


Technical Assistant Posts in Various SSA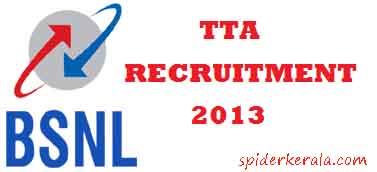 Bharath sanchar nigam limited (BSNL) had announced 739 job vacancies for the post of technical assistants in various telecom circles across the country. In Kerala telecom circle itself 152 posts are available. This will be a great opportunity for those who seeking job in a good public sector area. There will be priority to those who registered their names in respective employment exchanges. The technical assistant posts are allocated in 11 secondary switching areas (SSA) across the state Kerala. In additional to the vacancies in Kerala, there are vacancies in various other states, which include, Andhra Pradesh, Haryana, and Himachal Pradesh, Jammu And Kashmir. The selection will be strictly based on various selection procedures. The selected candidates will get a salary scale of Rs 13600- Rs 25420. It includes, medical tests, written examination etc. The written examination will be conducted on 30th of June 2013. Those who selected from the written examination will be posted with a probation period of two years. The written examination includes three sections with a total of 200 marks. Three sections are,



Parts 1- general ability, the marks allotted for this section is 20.

Part 2 – basic engineering, these section caries 90 marks

Part3 – specialization, it carries 90 marks


The minimum marks required to qualifying the examination is 40 percentage of total marks for general category and 33 percentages for OBC, SC, and ST categories. There will be negative marks for each wrong answers attempted. The examination will be started at 10 AM at respective centers in Kerala.


Eligibility

The eligibility conditions for the applicants are, they must passed three year diploma in engineering from any recognized universities or institutions. Those who completed M.Sc electronics from any recognized universities are also applicable for these posts. The applicants must have the age in between the age 18 to 27 there will be an exception for those who retired from defense, sc, st categories, BSNL employees, disabled persons. The addresses of various SSA in Kerala are,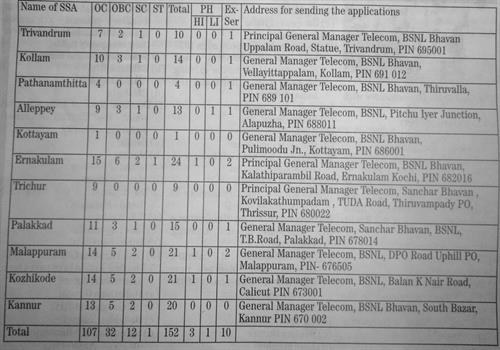 The applicant must keep the following document along with application form,



-Hall permit card

-Bank draft

- Attested copy of educational qualification

- attested copy of SSLC/ Birth certificate

- attested copy of community certificate

- No objection certificate from the present employer, if employed

- 2 self addressed and stamped envelop


The engineering diploma must be in either in any of the following categories,



Electronics engineering

Electrical engineering

Radio engineering

Computer engineering

Instrument engineering

Information technology



Those who want to apply for this post should take a demand draft of Rs 500 from any nationalized bank in country. the DD should be taken in the name of " Account officer(cash), O/o Principal General Manager/O/o General Manager, BSNL. After that, the applicant has to download the application form and hall permit form from the website www.kerlatelecom.com. The application must fill along with a signed passport size photograph. The photo that pasted on hall permit card must be attested by a gazetted officer.