Recipe of Chakkakuru Manga Thoran for a perfect rainy season

The recipe of Chakkakuru Manga Thoran is given below. "Chakkakuru", the Malayalam word means Jack fruit seeds. It is also know as 'Chakka ari' in different parts of Kerala. There are many healthy dishes made out of Jack fruit seeds in Kerala, out of it this dish is the most yummiest one. Try it out and it will be an amazing healthy dish for a rainy season.


Introduction

Chakkakuru Manga Thoran (Jack Fruit Seed and Raw Mango Dish), is a traditional Keralite dish made particularly during the rainy season. In ancient Kerala, most of the people where farmers. As they could not cultivate any crops/plants during rainy season, they kept aside dried Jack fruit seeds for this particular season. There are various typical Keralite dishes made out of Jack fruit seeds. The most popular and tastiest ones are the Chakkakuru Manga Thoran and Chakkakuru Manga Curry. As Jack fruit and Mangoes are seen abundantly in Kerala, these dishes were the cheapest and easiest ones to be prepared.


Health benefits of Chakkakuru Manga Thoran

Before getting into the detail health benefits of this dish, I would like to say that the Chakkakuru Manga Thoran is an apt dish for the current situation prevailing in our country. Most of the vegetables we get these days contains acids and chemicals, so does the meat we buy. Hence to be on the safer side lets go back to the nature and try something better for a healthy tomorrow. Chakkakuru Manga Thoran is a dish made out of ingredients easily available in our farm, hence these are free from chemicals and highly injurious preservatives. According to me this itself is one of the major health benefit of this particular dish.

These days most of us just throw away the Jack fruit seeds and will enjoy eating the fruit alone. Jack fruit seeds are not to be thrown away as they are rich in proteins and is nutritious too. It is fiber rich seed containing carbohydrates. The potassium content in the seed helps to lower the blood pressure level. It is a good source of Vitamin B1 and Vitamin B12. It also contains Vitamin A & C. This seed helps in preventing cancer, ulcer, constipation and aging. It is a good food to fight against obesity as well. So, what you think now? Isn't it a dish worth trying?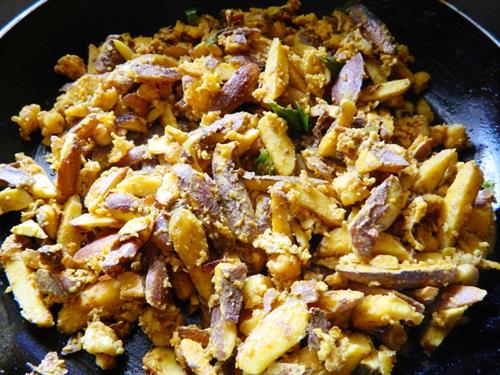 Ingredients

Jack Fruit Seeds : 1 Cup
Raw Mango : 1 No (Medium Sized)
Grated Coconut : 1/4 Cup
Garlic : 3 - 4 Cloves
Green Chilly : 2 Nos
Dried Red Chilly : 2 - 3 Nos
Salt : To Taste
Turmeric Powder : 1/4 Tsp
Red Chilly Powder : 1 Tsp
Water : 1/4 Cup
Coconut Oil : 1 Tsp
Mustard Seeds : 1/2 Tsp
Curry Leaves : 1 Sprig


How to prepare Chakkakuru Manga Thoran
Peel the skin of Jack fruit seeds, wash them thoroughly under running water and cut them into equal slices, length wise or in cubes.


Wash the raw mango and remove its skin as well. Cut the mango into small pieces of equal sizes.


Wash and chop the green chillies and garlic cloves.


Grind the grated coconut, chopped green chillies and garlic, turmeric powder, salt and red chilly powder along with little water. Keep this paste aside.


Take a pan or kadai and heat it. Put the sliced Jack fruit seeds into it and pour water to it. Close the lid and allow it to cook in low flame for few minutes.


Once the Jack fruit seeds are half cooked, add the raw mangoes along with the paste into it. Mix well and allow it to get cooked well.


Meanwhile take another pan and pour coconut oil into it. Splutter the mustard seeds and then add the dried red chillies and curry leaves into it.


Add this mixture into the main dish and stir thoroughly.


Off the flame and serve hot along with rice.
Garnishing Tips

The Chakkakuru Manga Thoran is a slight yellowish color dish, hence green color will make it amazing. Curry leaves is the best ingredient for garnishing this particular dish. As this is a typical Keralite dish, serving this dish in a Banana leaf will make it even more tempting and pleasing to the eyes.


Tips and Tricks
The cooking time required for both Jack fruit seed and Raw mango is different, hence only add the raw mangoes when the seeds are half cooked. Otherwise the mango slices will be over cooked and will stick on to the seeds.


At the end instead of adding mustard seeds, dried red chilly, curry leaves etc, you can just pour some coconut oil and add curry leaves on top of it. Stir well and off the flame.


This dish can be tried without adding raw mango slices as well. Mango gives more of a sour taste to the dish.