Recipe of Manga Ozhichu Curry - An awesome combination with rice

The recipe of Kerala's very own dish Manga Ozhichu Curry is given below. It is a tasty dish which can be served along with rice and is easy to be made. Another peculiarity of this dish is that it requires minimal ingredients. Don't you love to have a switchover from the regular dishes at least once in a while? Have a look at the below recipe and try making it yourselves. If you like raw mangoes and its sour taste, you surely will like this dish too.


Manga Ozhichu Curry

Manga Ozhichu Curry (Raw Mango Curry/Dish) is a special dish made by the people in Kerala during that season when Mangoes are abundantly available in the region. It is an easy to prepare dish mainly made on special occasions and during important celebrations. Mango and Jack fruit are the two important fruits consumed by the people in Kerala. As these two fruits are lavishly grown in the region, people tend to have a special addiction to these. The sour taste of the raw mangoes adds to the taste of this dish and that is the factor which makes it special. Here I have given the recipe to prepare this awesome dish.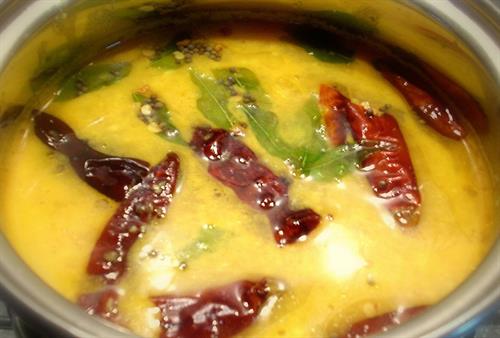 Ingredients
Raw Mangoes : 2 Nos


Grated Coconut : ¼ Cup


Salt : To Taste


Green Chilly : 2 Nos


Turmeric Powder : ¼ Tsp


Cumin Powder : 1/2 Tsp


Water : ½ Cup


Curry Leaves : 2 Sprigs


Shallots (Small Onions) : 4 Nos


Coconut Oil : 1Tblsp


Mustard seeds : 1/4 Tsp


Dried Red Chilly : 2-3 Nos
Method of Preparation
Remove the skin of the raw mangoes and wash them thoroughly under running water.


Then cut the mangoes into cubes of equal sizes (medium).


Take some water in a vessel and put the mango pieces into it along with a pinch of turmeric powder and salt, to taste.


Let the mango pieces get cooked well. Meanwhile grind the grated coconut along with chopped small onions (3 Nos), cumin powder and Green chillies.


Once the mango is cooked, smash it with a spoon and add the grinded mixture to it and stir well.


Allow it to cook for few minutes and then off the flame.


Meanwhile, take another pan and heat it. Pour the coconut oil into it and splutter the mustard seeds.


Add the dried red chilly and chopped onions to it, off the flame and pour this into the cooked up Manga Ozhichu Curry.


The dish is now ready to be served with rice. You will surely have a great lunch.