Recipe of Spicy Cauliflower Curry - A Healthy Dish

The recipe of a spicy cauliflower dish is given below. Cauliflower is a cruciferous vegetable which is good in fighting against cancer. This dish is a perfect one for a lunch or dinner that has chapathi or roti as the main course. Read the recipe and try making it today itself. You will surely enjoy its taste and odor TOO.


Spicy Cauliflower Curry

Even though cauliflower is not a vegetable commonly seen in Kerala, now it is a familiar one to all of us. This dish mentioned below, gives the foreign vegetable a Keralite touch. You must have figured it out from the word "Spicy" itself. Yes, it is a spicy dish with thick gravy which goes well with chapathis and rotis. To add to the Keralite touch, this dish has Coconut oil and coconut milk in its ingredients. It also has almost all the masalas that we use in our daily life and as the name signifies, it is more onto the spiciest side.


Health benefits of Cauliflower

Apart from the taste of this dish, there is another reason why you should choose this. It is nothing else than the merits of having this vegetable. Cauliflower contains vitamins such as Vitamin C, K, B6, B5, B2, B1 and B3. It also contains potassium, phosphorous, iron and fiber. The vegetable works as an anti-oxidant and it has anti-inflammatory benefits as well. Once an article was published in Times of India regarding cauliflowers. It says "Eat cauliflower to ward off cancer".

Read below to get the recipe of Spicy Cauliflower Curry.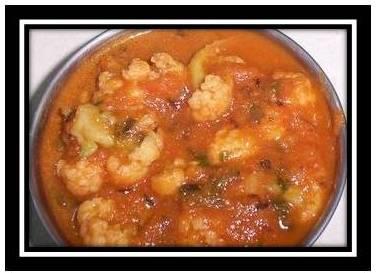 Ingredients
Cauliflower : A small one (separate the flowers, just 8-10 is required)

Potato : 1 No

Sabola : 2 Nos

Tomato : 1 No

Garlic : 3 Flakes

Ginger : A small piece

Green Chilly : 3 Nos

Curry Leaves : 1 Sprig

Turmeric Powder : 1/4 Tsp

Chilly Powder : 2 Tsp

Coriander Powder : 3/4 Tsp

Garam Masala Powder : 1/2 Tsp

Coconut Oil : 6 Tsp

Salt : To taste

Coconut Milk : 1/4 Cup
Method of Preparation
Soak the cauliflowers in water for sometime. Then wash it and keep it aside in a cotton cloth.


Once the water is been absorbed by the cloth, fry the cauliflower partially. Just a shallow fry is enough, it is to get a crispy feel to the flower.


Meanwhile peel the skin of garlic, potato, ginger and sabola. Wash them thoroughly along with green chillies and tomato. Chop all of them except potato finely. Potato has to be cut into small cubes of equal sizes.


After the cauliflowers are fried, get the potatoes fried.


Then, heat oil in a pan and add the sliced ginger, green chilly, garlic and curry leaves into it. Saute well.


Once the rawness of ginger and garlic is gone, add sliced onion into it.


Cook until the onion becomes translucent.


Now add, turmeric powder, chilly powder, garam masala powder and coriander powder to it. Mix well.


Close the lid and cook for 3 minutes. Then add the chopped tomatoes to it. Cook until the tomatoes can be smashed.


Then add the fried potato and cauliflower to it. Mix it well with the masala and close the lid. Let the masala get jelled with the fried pieces.


After 3-5 minutes, remove the lid, and add coconut milk to it. Add salt as well. Mix well and allow it to boil. Lower the flame. Let the dish get cooked under low flame.


Once the cauliflowers and potatoes are cooked well, off the flame and serve hot along with Chapathis, Rotis etc.
Garnishing Tips

The spicy cauliflower curry can tempt anyone with its odor itself, but to make it little more pleasing to the eyes, we can garnish it. This dish can be garnished by using coriander leaves. Just crumble few coriander leaves and spread it on top of the dish. Make a rose out of carrot or tomato and it can be placed in a corner to make it look little more attractive. Curry leaves and broccoli are another option to decorate this fantastic dish.