Dry Red Chili Chicken – Ingredients and Preparation Methods

Would you like to prepare Dry Red Chili Chicken? Dry Red Chili Chicken is very tasty and spicy recipe which is available in Kerala. Now you can prepare Dry Red Chili Chicken in your home itself. Read here about Ingredients and Preparation Methods of Dry Red Chili Chicken.



Job oriented Digital Marketing Courses in Kerala.
Call +91 8138875600 for details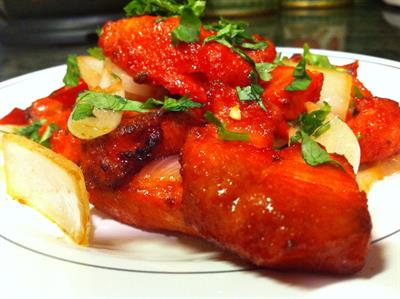 The Dry Red Chili Chicken is available in Kerala cuisine and it is most popular among Kerala people and it is easy to prepare and it consumes less time only with simple ingredients. This will be more delicious to serve and to eat and please it read the recipe before proceeding with it. It takes a preparation time of about 15 minutes and cooking time of about 15 min in addition to this it has some nutritional factors like carbohydrates, dietary, calcium vitamin B etc. It is most likely by all type of peoples especially Kerala people. Let us see the ingredients and making of Dry Red Chili Chicken.


Ingredients of Dry Red Chili Chicken

• Chicken – ½ KG
• Dry Red Chilies –12 Nos
• Gram Flour – 6
• Shallot – 15 Nos
• Garlic – 10 Cloves
• Ginger – 2 Inch Pieces
• Curry Leaves – 2 Springs
• Chili Powder – 3 Tea Spoon
• Lemon Juice – 1 Table Spoon
• Coriander Powder – 2 Tea Spoon
• Turmeric powder – 1 Pinch
• Coconut Oil – 2 Table spoon
• Salt- For Taste


Method to Prepare Dry Red Chili Chicken

STEP 1: Wash the chicken completely and cut it into small pieces.

STEP 2: Grind ginger, garlic, curry leaves, lemon juice, salt and 1 table spoon of chili powder into a paste.

STEP 3: Mix the small chicken pieces with the paste and keep aside for 30 minutes and then make to fry.

STEP 4: Make the remaining garlic, Ginger and shallots into slice.

STEP 5: Add gram flour into the mix which is already ready and mix it well with 4 table spoon of water. Mix it well

STEP 6: Now heat the cooking pan and fry the marinated chicken pieces well to avoid raw smell of chicken.

STEP 7: Now heat the 2 table spoon of oil in a pan. Then Put the broken dry chilies and stir it well to turn it dark brown. Put garlic, ginger, shallots, curry leaves and salt into it.

STEP 8: Put ¼ table spoon of chili powder and mix it well now adds the chicken with it and combine it well.

STEP 9: Now remove from flame and make it to serve and enjoy. Try this once and you will surely like it. This is one of the delicious foods in Kerala Cuisine.


Tips to Get Good Results

Serve this with dollop of mayonnaise. Please make sure follow the instructions carefully and you will surely like it to great extent.