Kerala style Koombu Thoran and Vazhakkai Mezhukkupuratti

Koombu Thoran / Banana Flower and Vazhakkai Mezhukkupuratti/Raw Plantain Stir Fry are the popular dishes in Kerala. These are usually prepared to be eaten along with the steamed rice. It is usually served as part of the 'Kerala Sadhya'.Quick and easy recipes are given below.Try it out and have a great time.


Banana plant is usually pronounced as 'Vazha' in Malayalam. Banana plant is commonly grown in Kerala .It can be planted in our own house yards even without any usage of harmful chemical fertilizers. By the use of organic fertilizers like cow dung ,kitchen waste, we can enhance the production and can get high quality fruits. We need less investment as Government offices like Krishi Bhavan provides different variety of banana suckers at low rates. It has many health benefits.

All parts of banana plant such as stem, flower,fruit can be used for making different delicious dishes. Banana stem is used to make thoran ,pickles. Banana leaves plays a vital role in Kerala sadhya as it is on this leaf,all the dishes are served. Banana is a delicious fruit and a great energy booster, so it is good to include in the breakfast. With Banana, we can make curry,chips,fry and thoran. Koombu Thoran reduces the chances for appendicitis and reduces kidney stones and also purifies stomach and improves the digestion. Desert banana /Palayankodan is better for making Koombu Thoran.

Ingredients for making Koombu Thoran/Banana Flower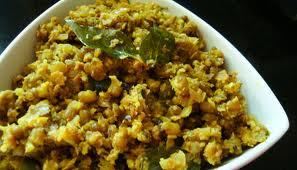 Banana Flower(sliced)-1


Turmeric powder - quarter teaspoon


Green chilly - 2


Garlic - 3 cloves


Cumin - one pinch


Coconut - quarter cup


Black pepper - one pinch


Salt - to taste
Tempering
Coconut oil - 2 teaspoon


Curry leaves - 1 spring


Small onion(sliced) - 2 cloves


Mustard seeds - quarter teaspoon


Preparation Method
Step 1:Wash all the ingredients thoroughly.
Step 2:Heat the coconut oil in a large pan. Add mustard seeds into it.
Step 3:When seeds crackle,add sliced onions and curry leaves into it.Stir well till it becomes light brown color.
Step 4:Then grind the ingredients like coconut,green chilly,cumin and garlic.Add salt and turmeric powder into it.
Step 5:Mix the sliced banana flower, grinded and tempered ingredients in a pan,cover the pan for five minutes at low flame.
Step 6:When steam comes, stir the contents well and cover the pan again.
Step 7:After 2 minutes,remove the lid and stir the contents well till it becomes dry. Here we get delicious and healthy Kerala dish, Koombu Thoran/Banana flower.


Tips
Apply oil on your hand and remove all the unwanted threads of the banana flower since it is not easily digestible.


It becomes more tasty when it is cooked with Red cow peas /Vanpayar.
Ingredients for making Vazhakkai Mezhukkupuratti/Raw Plantain Stir Fry
Banana(sliced thin)-500gm


Garlic - 4 cloves


Red chilly - 2 teaspoon


coconut oil - 4 teaspoon


salt - to taste


water - quarter cup


How to Prepare
Step 1:Wash the bananas very well after slicing them.
Step 2:Put bananas in a pan,add water and salt to it.
Step 3:Stir it well and cover the pan for five minutes until the water evaporates completely.
Step 4:Take another pan and add coconut oil,red chilly and garlic into it.Stir it well until it becomes soft and light brown color.
Step 5:Then also add the banana to the above mixture and stir it for ten minutes without covering the pan. Here, we prepare the spicy and tasty dish,Vazhakkai Mezhukkupuratti/Raw Plantain stir fry.


Tips


Along with red chilly,freshly ground black pepper powder is also used.

In order to remove banana stain,wash it with salt water or rice water after slicing them.