Kurumulaku (pepper) Kozhakkatta recipie

Kurumulaku (pepper)Kozhakkatta recipe is given here. Kozhakkta is a delicious dish that we regularly prepare in my home. Easiness of the method of preparation and availability of the ingredients made this favorite to us and of course to our family. Main ingredient rice flour will always be available in my home for idiyappam and other ingredients too are used regularly for other dishes. The duration of time taken to prepare is also very less.


Introduction
Kozhakkatta is a traditional recipe in the kitchen throughout south India. The main and important thing is that it ha a traditional value and interest. There are many varieties of Kozhakkatta like kurumulaku kozhakkata, uppu(salt) kozhakkata, poorana (filling(ellu(sesame seedu),kadala,uzhunnu,thenga, vellam) kozhakkatta, vella (jaggery)kozhakkatta, paal(milk kozhakkatta). Here know about preparing kurumulaku(pepper kazhakkatta) which is very easy among the above told varieties. There is a thought that kozhakkta is very favourite for Ganapathi (Vigneshwara). So In south India at the time of Vinayaka Chathurthi people are preparing varieties of kozhakkatta and dedicating it to Ganapathi at the time of prayer.

Preparation time:30 minutes, Cooking time: 30 minutes, Serve: 4-5 people.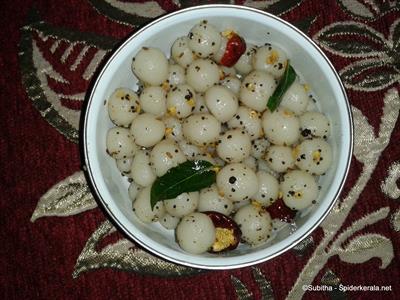 Ingredients required

Rice flour - 2 cup
Coconut grated - ½ cup
Ghee - 2 table spoon
salt - 1/2 table spoon
Pepper(powder) - 2 table spoon
Cooking oil -1 table spoon
Mustard - 1 table spoon
Curry leaf -1 spring
Red Chilly - 2 Nos
Onion chopped - 2 table spoon
Water - 1 litre
Method of preparation
Boil 2 cup of water and pour required quantity to mix it with rice flour .


Add 1 table spoon of ghee and grated coconut to this, mix well with a spatula and make


it in the form of smooth dough(make sure that it is not sticking in your hand)


Make this into the form of small balls in the size of small amla.


Put ¾ litre of water in a dish on a stove and allow it to boil well.


After boiling put the already prepared rice ball into the boiling water. (Don't use or shake it with spatula until the water with kozhakkatta ball start to boil.


Allow it to boil for 10 minutes until all the ball become baked well.


Decant the water and transfer the balls to another dish.


In another pan heat 1table spoon of ghee and 1 table spoon of cooking oil.


Add the ingredients 7,8 and 9 and allow it to sputter.


To the same add pepper powder and chopped onion and allow it to fry.


Switch of the stove and add the above item into the decanted kozhakkatta. Then mix well


It is ready to serve.


Tips:
You can prepare kozhakkatta maavu( dough) in different way. Either you can prepare it from rice flour or prepare it by grinding the soaked rice in a grinder. The grinded maavu will be soft as compared to flour.

Preparation of grinded maavu
Soak white raw rice or mixture of raw rice and para boiled rice according to the quantity you required for 3-4 hours. After that grind it in a grinder until it becomes very soft. Then keep this in refrigerator overnight. In a thick bottom dish allow water to boil and place the rice maavu containing dish into this. Allow it to become a dough by continues stirring without sticking it into the bottom. Add 1 table spoon of cooking oil.

Preparation of rice flour
You can prepare rice flour in two different methods.

First soak the raw rice for 10 minutes and decant the water and allow it to dry in sunlight for 3-4 hours. Then grind it in flour mill. Allow it to cool .This you can keep as such in a container.


Soak the rice for 1-2 hour and decant the water. Then grind it in a mixer grinder. Sieve it. (Use the sieve with small hole). Then fry the flour without char and changing the color. Allow it to cool and store in a container.