Kerala University degree first allotment 2014 to be published soon

Kerala University degree first allotment 2014 will be published soon at http://admissions.keralauniversity.ac.in, the official website. As the trial allotment of first year degree admission 2014 got published, applicant can add or rearrange options till 07/06/2014 by 3pm. The trial allotment will give an idea about the chances of getting allotment to a degree course in a college. After the period earmarked for revising options, first allotment list will be published in the official website of the University


The Kerala University has published the trial allotment of first year degree courses. As the trial allotment of first year degree admission 2014 got published, applicant can add or rearrange options till 07/06/2014 by 3pm. The trial allotment will give an idea about the chances of getting allotment to a degree course in a college.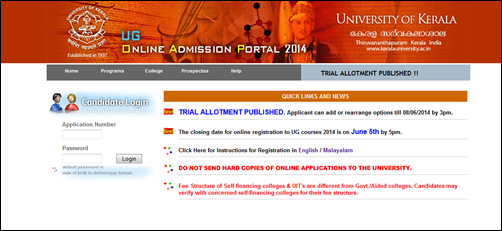 The trial allotment is made on the basis of the options registered and the rank of the candidate. As the trial allotment does guarantee the candidate a seat in a college or a course, one must look forward for the first allotment results which would be published in a week time. Applicants can visit http://admissions.keralauniversity.ac.in/, the official website of the University to know the first year degree allotment results.

To view the trial allotment, students should navigate to candidate login section and Login by entering your application number and password there. After the period earmarked for revising options, first allotment list will be published in the official website of the University.

The first allotment list which will be published in the second week of June carries the personal details, the college and the programme to which the candidate is selected and the fee to be remitted. The allotment memo should be downloaded and must be produced before the Principal at the time of admission. This can be downloaded from the website by entering details of the prescribed fee as per the rules.

The candidates who are listed in the allotment should have to remit the University fee as per the procedure mentioned in clause 8.2 of the University Prospectus 2014 to ensure seat. Those who fail to pay the fee in due time will not be considered for further allotment. As the date of admission in the concerned college will be declared through a notification, candidates have to keep a touch with the University website.