Popular beaches in Kerala to visit and ideal for swimming

Popular beaches in Kerala to visit and ideal for swimming are given here. Most of the finest beaches in India are in Kerala. The coasts of Kerala is lined with sandy beaches,coconut palms and rocky promontories. An impressive number of visitors arrive here every year. This article tell you about the main beaches in Kerala.


Introduction
Kerala is renowned the world for its diverse and unique attractions such as magic back waters, golden beaches, refreshing hill station, rejuvenating ayurveda, exotic art forms, colorful festivals and delightful cuisines. Tourists from different parts choose this land as one of the ten paradises of the world. Most of the finest beaches in India is seen in Kerala. The coasts of Kerala is lined with sandy beaches, coconut palms, rocky promontories which attract the tourists from different parts of the world. A visit to Kerala attains its fullness only with a visit of finest beaches. Kerala is blessed with a number of beaches whose name and specialties are given here.

1) Kovalam: Kovalam is an internationally renowned beach which is situated 16 km from Thiruvananthapuram. This is a seaside destination which comprises three adjacent crescent shaped beaches. Light house at the southernmost is the famous among them. Kovalam offer the tourists a fascinating sunset viewing and a variety of entertainment activities such as cycling on the beach, catamaran rides etc.

2) Shankhumugham: This is situated 8 km from Thiruvananthapuram near the airport. This is a sea side destination which has an indoor recreation club and a traffic training park for children. Shankhumugham offer the view of matsya kanyaka which is a gigantic sculpture of mermaid having 35m long and star shaped restaurant. Akkulam and Veli tourist village are the main tourist spot situated near by Shankhumugham.

3) Chowara: This is a fishing hamlet situated 8 km from Kovalam in Thiruvananthapuram. This pristine and shiny hamlet is an unending stretch of white sandy beach.

4) Papanasham: Papanasham is situated 45 km from thiruvanthapuram in Varkala. There is a dip in the sea at Papanasham which means to the rescue of sins is believed to be holy. Papanasham offer of views such as nature cure centre, serene backwater, mineral springs and a 2000 year old Sree Janardhana swami temple.

5) Alappuzha beach: Situated 4 km from the Alappuzha city, the main attractions of the beach are an old light house and a 140 year old pier which extend in to sea.

6) Poovar: Poovar is an important tourist destination place which is situated 12 km south of Kovalam in Thiruvanthapuram close to the Neyyar river estuary. This is a spectacular beach which was an important trading spot in its earlier times.

7) Thangasseri: This is a seaside village which is situated 5 km from Kollam. Old Portuguese fort and churches built in the 18th century can be seen here. One of the specialty of the beach is that tourists can see the sun setting and moon rising simultaneously.

8) Fort Kochi beach: As a famous beach situated 21 km from Ernakulam, Fort Kochi beach offers a spectacular sunset for the tourists. Water front stalls serving fresh catch according to the taste is the one of the specialty of this beach.

9) Beypore: Beypore is situated 10 km from Kozhikode. It is the one of the prominent pots and maritime trading center of ancient Kerala. A boat building yard id present here which is renowned for the construction of Urn (Arabian Trading Vessel).

10) Kappad: This is a beach having much historic important which is situated 16 km Kozhikode. Portuguese traveler Vasco da Gama landed on Kappad beach on 27th May 1498 in three vessel with 170 men.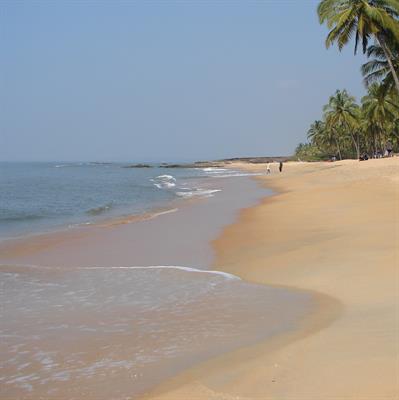 11)Payyoli: It is situated 40 km from Kozhikode. Hordes of the endangered Olive Ridley turtle come to the beach in November - December months in order to lay eggs. Shallow waters this beautiful beach is very ideal for swimming.

12) Kanwatheertha: Situated 3 km from Manjeswaram in Kasargod, a large swimming pool like formation of sea on the vast beach is the main attraction of Kanwatheertha.

13) Cherai: This is a lovely beach situated 23 km from Ernakulam. The beach is bordering Vypeen Island which is ideal for swimming. The nearby Kerala village with paddy fields and coconut groves added the beauty of the beach.

14) Tanur: Tanur is small coastal town having much historic important. This place is situated 35 km from Malappuram and is one of the earliest settlement of Portuguese. It is believed that in 1956 st Francis Xavier visited the place. A Kerala Deshapuram temple dedicated to Lord Vishnu Isa situated near the south of Tanur town which is believed to be one of the oldest temples in Kerala.

15) Natika: This is a picturesque beach situated 25 km from Thrissur. The beach is fringed by palm trees is a beautiful picnic centre.

16) Padinjarekkara: This is a famous bird watching beach situated 5 km from Chemravattam, Ponnani in Malappuram. One of the breathtaking view that the beach offer is the confluence of Bharathapuzha, Tirur puzha and the Arabian sea.

17) Vallikunnu: This is a famous beach situated 40 km from Malappuram near the Kadalundi bird sanctuary. One of the main attraction of the Vallikunnu is a beach resort set in the midst of palm grove.