Spicy Vegetable Cutlet Recipe

Are you looking for the recipe of snacks to enjoy your evenings? Do you want the recipe of a healthy food for your kid's snack box? Here, in this article I have given the complete recipe of vegetable cutlet. Please do try it out and I am sure you are going to like it.


Introduction

It is monsoon season in Kerala and it is the time that we become more hungry. In the evenings, when you have rain drizzling outside, with a pleasant cool wind, don't you love to have a hot cup of tea with something spicy? Yes, I can see your mouth watering. Here is a perfect recipe for you to have along with tea especially during monsoon season. It can be used as a perfect starter as well.


Vegetable Cutlet

The use of vegetables in our day to day life is been reduced when compared to olden days. Now we stick on to fast foods, meat and fish keeping aside the healthy vegetables. Let us bring a change to it by trying out this wonderful healthy dish. Vegetable cutlet is a real healthy snack as it has almost all vegetables included in its preparation. This is an easy to prepare snack which you can suddenly make when you have unexpected guests at home. Go through the below ingredients and get them if you do not have it at home. Below that I have mentioned the step by step procedure to prepare this wonderful cutlet. If you have any queries, do let me know by posting a message below.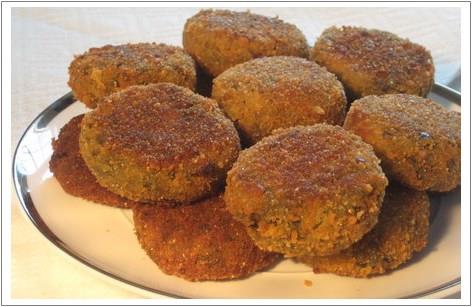 Ingredients

Potato (Peeled, Boiled and smashed) : 1/2 Cup
Onions (Finely Chopped) : 1/2 Cup
Corn (Husk and silk removed) : 1/4 Cup
Carrot (Finely Chopped) : 1/4 Cup
Green Peas : 1/4 Cup
Beans (Cut into small pieces) : 1/4 Cup
Green Chilly : 3 Nos
Ginger : A Small Piece
Garlic : 2-3 Flakes
Turmeric Powder : 1/4 Tsp
Chilly Powder : 1 Tsp
Pepper Powder : 1/4 Tsp
Garam Masala Powder : 1 Tsp
Salt : To Taste
Corn Flour : 1/2 Cup
Bread Crumps : As Required
Water : As Required
Oil : As Required

For tempering and seasoning
Mustard Seeds : 1 Tsp
Oil : 2 Tsp
Curry Leaves : 2 Sprig


Method of Preparation
Take a vessel and put the chopped carrots, beans, green peas and corns to it. Close it with a lid and allow it to cook with the help of evaporation. You may just sprinkle few droplets of water into it. This is done to avoid moisture in the vegetables. You may also cook the vegetables using a pressure cooker.


Once the vegetables are cooked, keep it aside. Now take a kadai and heat it. Pour oil into it and splutter the mustard seeds. Now add the curry leaves into it.


Then add the finely chopped onions and green chilies into the kadai and saute well. When the onion becomes transparent, add the cooked vegetables into it along with the mashed potato and ginger garlic paste.


Once the vegetable are properly tossed, add turmeric powder, salt, chili powder and garam masala powder to it. Saute well for few minutes. Now you can feel a good odor.


Switch off the flame. Keep the mixture aside and allow it to cool. Meanwhile, take the corn flour and make it into a thick paste by adding little water. The cutlets are to be dipped into it, hence it has to be thick to form a good coating around the cutlet.


Now, make balls out of the mixture and flatten them. You may also make them into different shapes of your wish. Then dip each one of the flattened balls in the corn flour mixture and then drop into smoothly into the bread crumps. Make sure the cutlet is well coated with bread crumps on both sides, only then the snack will have a crispy effect.


Do this for all flatten balls. Heat oil in a kadai and once it boils, drop these cutlets gently into it. Deep fry it until the cutlet turns into golden brown color. Now off the flame. You may also shallow fry it.


You may serve the crispy, hot and spicy vegetable cutlet with tomato ketchup. It is a good dip along with cutlets. You can also garnish your cutlet with coriander leaves.
Points to be noted
You may avoid using garlic, if you do not like the odor of it.


You can reduce the number of green chill and the quantity of chilly powder used if you want the cutlet to be less spicy.


Try to shallow fry the cutlet so that the oil consumption will be less.


You may avoid any of the vegetables listed above, if you have a strong dislike towards it or if it is not easily available.


If you cook the vegetables in water, immediately strain of the water once the vegetables are cooked. You may also use a muslin cloth to squeeze out the remaining water in the vegetables as the vegetables has to be totally moisture free.


You can add coriander leaves in the snack, if you like the flavor of it.
Drawbacks

Cutlets have become an inseparable part of small get-together and parties. Avoid having vegetable cutlets daily or very frequently as it is made out of oil. We all are well aware about the consequences we have to face if the intake of oil is too much. And cutlets are one of the snacks in which oil cannot be avoided as it demands for a deep fry.