Recipe of Sambar, the easy Method

Have you heard about the most popular South Indian dish, Sambar? I am sure you have heard about it. In this article I have given the easiest method of preparing the wonderful, healthy Sambar. Please do check it out.


Recipe of Sambar

Sambar is a very popular dish of South India. It is a very flexible dish that can be consumed along with dosa or idili for breakfast, along with rice for lunch and with chapatis for dinner as well. What more do you need in this busy life! Preparing a dish will make the side dish for all the three meals of a day. Sambar is a very easy to prepare dish with lot of health benefits. Almost all vegetables that we use in our day to day life can be used while preparing sambar. Thus you get the benefits associated with every vegetable. Now, are you ready to try this out?

Here, I have given a complete list of the ingredients required for this dish along with the easiest method of preparing Sambar. Kindly have a look at it and try yourself preparing it.


Ingredients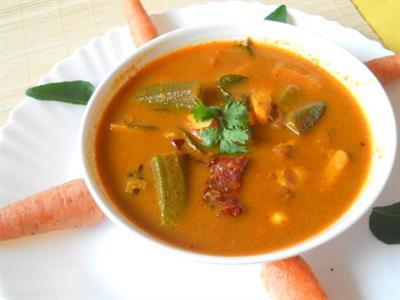 Dal (Toor or Masoor Dal) : 1/2 Cup
Potato : 2 Nos (Medium Sized ones)
Onion (Sabola) : 2 Nos
Shallots : 1/2 Cup
Carrot : 2 Nos
Brinjal (Egg Plant) : 3 Nos
Okra (Lady's Finger) : 4-5 Nos
Drum Stick : 2 Nos
Green Chilly : 3 Nos
Ash Gourd : A small piece
Snake Gourd : 1/4 Cup
Bottle Gourd : 1/4 Cup
Cucumber (Vellari) : 1/4 Cup
Raw Banana : 2 Nos
Tomato : 2 Nos
Turmeric Powder : 1/4 Tsp
Chilli Powder : 1 Tsp
Asafoetida : A small pinch
Sambar Powder : 3 Table Spoon
Salt : To Taste
Turmeric Pulp : 1 Tsp
Water : As Required
Coriander Leaves (Chopped) : 1/2 Cup

For Seasoning:
Mustard seeds : 1 Tsp
Curry Leaves : 2 Sprigs
Dried red chilly : 3 Nos
Oil : 2 Tsp


Method of Preparation
Take a vessel and pour water into it add the toor dal into it. Now. add turmeric powder and chilly powder into it and allow it to cook by closing the lid.


Meanwhile chop the vegetables into cubes. Once the dal is cooked, add the chopped vegetables (potato, onion, shallots, carrot, ash gourd, bottle gourd, cucumber, snake gourd, drum sticks, raw banana, green chilly and tomato) into it. Keep aside the binjals and okra as they need very less time to get cooked.


Add little water along with the vegetables. Now you may add salt to taste and the turmeric paste into it. Saute well and close the lid, let the vegetables get cooked.


Once the vegetables are half done, add the chopped okras and brinjals into it. After 5 minutes, you may add a pinch of Asafoetida and the sambar powder to the dish. Now stir well and reduce the flame. Close the lid and allow it to get cooked in low flame for some time.


When all the vegetables are cooked well and when the dish starts to boil well, take the lid and stir frequently for few minutes. Now add the chopped coriander leaves into the dish. Close the lid and off the flame.


Now take a pan and heat oil in it. Splutter the mustard seeds and add the dried chilies along with curry leaves into it. Take the lid of the sambar and pour this seasoning into the dish and stir once.


The tasty sambar is ready to be served along with rice, dosa, idli, chapatis, rotis etc. You can garnish it by placing a sprig of curry leaves on top of it.
Points to be noted

Cooking always has some loop holes and easy tricks. Yes, sambar too posses this quality. Kindly read the below mentioned points to know the loop holes about this healthy dish.


If you are planning to prepare Sambar, it is always better to soak the toor/masoor dal in water overnight. This makes the cooking process easy. If not, you will have to depend on the pressure cooker.


Normally the sambar powder will not be spicy, hence we are adding chilly powder to the dish., You may avoid it if you please.


Coriander leaves give a different tempting odor to the dish, however some people do not like its taste. If you are one among them, kindly avoid using it.


You can cook tasty sambar even if you do not have some of the above mentioned vegetables.


If you do not have tomato or if you want to avoid it, just increase the quantity of tomato pulp.


You can add almost every vegetable to this dish, even if I have not mentioned it above. However never add bitter gourd to it as it will spoil the taste of the dish.


Once the vegetables are cooked, you can mash it using the spoon if you like to have a thick gravy for the dish.